News story
DFID staff recognised in 2013 New Year Honours list
The Queen's New Year's Honours List announced today has recognised the contribution of DFID staff on their work to reduce extreme poverty.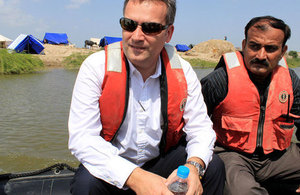 Those receiving an honour include:
Michael Anderson, formerly the Prime Minister's Envoy on UN Development Goals, who becomes a Companion of the Order of the Bath. Michael Anderson was Director General for Policy and Global Issues at DFID between April 2010 and September 2013.
George Turkington, Head of Office in Pakistan from 2009-2013 and now Head of DFID's Conflict, Humanitarian and Security Department, becomes a Commander of the Order of the British Empire (CBE) for services to international development and humanitarian assistance in Pakistan.
Richard Rose, now a Private Sector Development Adviser for DFID Uganda becomes an Officer of the Order of the British Empire (OBE) for services to infrastructure in Afghanistan.
Anissa Toscano, a consultant, becomes an Officer of the Order of the British Empire (OBE) for humanitarian work with DFID, particularly in Syria.
Responding to the announcements, International Development Secretary, Justine Greening, said:
Congratulations to the DFID staff who have been recognised in the New Year's Honours list. It shows the great work being done all over the world by people in the department, often in very difficult circumstances.
We faced a challenging year in 2013, with humanitarian catastrophes in Syria and the Philippines. But the hard work and determination of our staff has allowed us to make a real difference and improve the lives of some of the world's poorest people.
Published 31 December 2013