News story
DFID Research: Supporting research to strengthen health systems in low and middle-income countries
A £15 million collaboration has been launched to support research that will generate practical measures to improve health systems.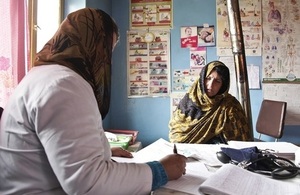 The Wellcome Trust, the Department for International Development, the Medical Research Council and the Economic and Social Research Council announced this new initiative earlier this month.
A health system comprises the organisation of people, institutions, and resources to deliver healthcare services and meet the health needs of target populations. In low and middle-income countries (LMICs), health systems face particular social and economic challenges, as well as challenges linked to rapid globalisation and evolving burdens of disease. There is an urgent need for more evidence to underpin efforts to strengthen health systems in LMICs and improve the delivery of health interventions in the face of these challenges.
The aim of the joint initiative is to foster multidisciplinary research that will contribute to the evidence base that supports improved healthcare delivery. The scheme will facilitate successful adoption of effective interventions into routine practice and improve the health of populations in need.
Up to £15 million has been committed to the new funding scheme, which will be allocated through 3 annual calls for proposals of £5 million each. Proposals are encouraged to address the ethical, economic, social, cultural and political aspects of the research question. Priority will be given to research that benefits the most vulnerable populations and / or those in poorly resourced settings.
Dr Jimmy Whitworth, Head of International Activities at the Wellcome Trust, said:
Developments in medical research are delivering new and improved ways of preventing and treating diseases around the world, but this counts for little without having the systems in place to ensure that these developments reach the people in need.
We need high-quality research into how to make the organisation of health systems more effective and how to better deliver new and existing interventions if we are to reach the ultimate goal of improving health for populations. This new scheme, supported by the combined strength of four important UK funders of health research, gives us an opportunity to create benefits that no single funder could achieve alone.
The initiative is intended to fund research that addresses a broad range of health systems research questions. Research proposals should aim to generate practical measures in implementing health system improvements, including technical, economic, and cultural or governance and managerial components of implementation and sustainability.
Dr Mark Palmer, Director of International Strategy at the Medical Research Council, said:
This call is a clear cut demonstration of how the MRC is working with our partner organisations to ensure that the benefits of biomedical research are translated into practice and have a real, practical impact on human health globally.
The scheme is designed to encourage a broad range of innovative project ideas across research disciplines and aims to tackle the complex, context-specific issues that determine how interventions can be more effectively delivered to improve health outcomes.
The £15 million total funds will be allocated through 3 annual calls for proposals of £5 million per call. The costs of each call will be shared between all 4 funders. For more information, please visit the website.
Published 21 October 2013