Press release
DFID invests to save millions from deadly diseases
Millions of lives could be saved by new health treatments to combat some of the world's most debilitating and deadly diseases, following support from the UK government.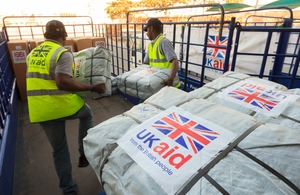 Each year, millions of people are infected or killed by HIV, TB, malaria, diarrhoea and neglected tropical diseases. In some cases, there are no treatments available; in others, such as TB, malaria and diarrhoeal disease, the infections have become resistant to existing drugs or the treatments are difficult to use or needed for long periods of time.
Yet many pharmaceutical companies have been reluctant to research and develop new products because of the small financial returns from these types of treatments.
Now, the Department for International Development is investing £138 million over the next 5 years into 9 public-private partnerships to support the development of innovative new drugs, vaccines, insecticides, diagnostic tools and microbicides to prevent, diagnose or treat these diseases. The partnerships will bring together experts in the field while also sharing the costs and risks across partners.
International Development Secretary, Justine Greening, said:
We have seen big progress in the treatment of some of the world's most terrible diseases but there is still more that can be done. The development of new technologies is vital if we are to improve the health of the poorest people through better treatment and prevention and avoid the unnecessary deaths of children.
Working together in product development partnerships, the public and private sectors have a chance to bring together their expertise for the benefit of millions of the world's poorest and most vulnerable people.
The nine Product Development Partnerships (PDPs) DFID is supporting are:
Drugs for Neglected Diseases initiative (DNDi): new drugs for sleeping sickness, skin sores, river blindness and other lymphatic diseases spread by parasites and mosquitoes
Medicines for Malaria Venture (MMV): new drugs for malaria, with a focus on treating malaria in pregnancy and the relapsing form of malaria
Innovative Vector Control Consortium (IVCC): new insecticides to control insects that carry malaria and some of the neglected tropical diseases
Foundation for Innovative New Diagnostics (FIND): new diagnostic tests for TB, malaria and sleeping sickness
TB Alliance: new drugs for people with TB and for those also infected with HIV
Aeras: development of new vaccines to prevent TB infection
New Products for Diarrhoea and Malaria (PATH): developing new drugs, diagnostics and vaccines for diarrhoeal disease and diagnostics for malaria
International AIDS Vaccine Initiative (IAVI): support for the development of new AIDS vaccines
International Partnership for Microbicides (IPM): support for the development of women-controlled HIV prevention technologies.
Notes to editors
Each year 800,000 children die of diarrhoea; 660,000 people die of malaria (mostly children), 1.4 million die of TB. More than 34 million people have HIV, 8.8 million have TB and about 1 billion people have one or more of the neglected tropical diseases such as sleeping sickness, skin sores and various worm diseases.
Examples of treatments resulting from PDPs previously supported by DFID include:
a sweet-tasting, paediatric antimalarial drug which has so far seen 171 million treatments delivered in more than 30 countries
an anti-malarial injection recommended by WHO as the first-line treatment for severe malaria of which 6 million vials have been distributed
the first new and improved treatment option for sleeping sickness for 25 years available in 12 African countries
five new diagnostic tests for TB that have been approved by WHO and are being scaled up in over 27 countries
development of the first ever rapid diagnostic test for sleeping sickness
a vaccine against meningococcal A, which has dramatically reduced the number of cases in Africa's meningitis belt, with more than 100 million vaccinated
the development of the first intravaginal ring containing an antiretroviral drug currently being tested as a woman-initiated method to prevent HIV infection.
General media queries
Follow the DFID Media office on Twitter - @DFID_Press
Published 22 August 2013