DFID helps Uganda's most vulnerable people
The UK government is supporting a new social protection programme in Uganda which will help to lift the country's most vulnerable people out of poverty.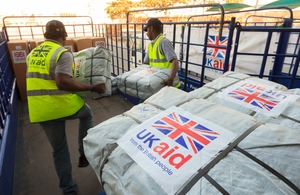 More than seven million people live on less than $1.25 a day in Uganda and many more are at risk of falling into poverty due to floods, droughts, illness or unemployment.
A key part of the programme is a cash transfer pilot which will provide small but regular monthly grants to over 600,000 vulnerable people in 95,000 households.
The grants will guarantee that poor people can buy basic necessities like food, uniforms, and school materials for their children, access health services, and eventually make small scale investments in productive activities.
This will help to break the transmission of poverty from one generation to the next and support the country's progress towards the Millennium Development Goals.
The programme will enable the Government of Uganda to develop a comprehensive social protection policy and will help to build capacity so that the Government can take over full responsibility for management of the programme once institutional and human resources are in place.
Together with financial and technical support from the Irish government and UNICEF, the UK's Department for International Development (DFID) has committed a grant of £33 million over the next five years.
The payment of cash transfers will begin in three districts in April 2011 and will expand to 14 districts by October 2011.
Published 29 September 2010