DFID confirms new board appointments
Vivienne Cox appointed to DFID's management board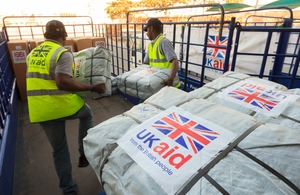 The UK Government's battle against global poverty will be given an injection of private sector expertise following today's appointment of Vivienne Cox to the Department for International Development's (DFID) management board.
Vivienne Cox is the former CEO and Executive Vice President of BP's Gas, Power and Renewables businesses, and had over 25 years experience with the company. She also serves as a non-executive director at Rio Tinto and Vallourec SA, and is the Chair of Climate Change Capital. Vivienne is the Patron of St. Francis Hospice Charity.
Andrew Mitchell, International Development Secretary, said:
"I want to usher in a new culture of private sector-led development at DFID, an example for other development bodies to follow.
"Vivienne's appointment is a key part of these efforts. Not only will she inject some business-savvy DNA into the department, but her wealth of experience and knowledge will give a valuable boost to our efforts helping the world's poorest people escape from poverty.
As well as Vivienne's appointment, Doreen Langston was also reappointed as a DFID non-executive director. Chair of the DFID Audit Committee and non-executive director on the DFID Management Board since 2008, Doreen has formerly served as Finance Director and Head of Operations at Daiwa Investment Bank, Chief Operating Officer at Banco Santander and Chief Accountant at HSBC.
DFID's appointments came as part of an unprecedented reform of Whitehall departments to boost its strategic and operational leadership with the appointment of senior leaders from outside Government onto departmental boards.
The new departmental boards will help guide departments through a significant period of transformation. They will monitor and assess the effectiveness of decisions, ensuring that inputs are being successfully translated to impacts.
Published 16 December 2010