DFID climate change project wins award
Ground breaking 'scuba rice' - developed thanks to UK aid - has won a prestigious national award.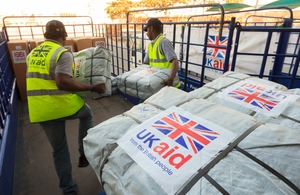 The special flood-resistant rice can breathe under water for up to two weeks, giving it protection during the monsoon season. 
It will potentially benefit 18 million farming households in Asia - providing them with valuable protection during the monsoon season.
The grain - known as scuba rice - responds to complete submersion by effectively becoming dormant, saving energy until the floodwater recedes when it can continue growing again. In this way it escapes drowning. Scuba rice was developed by the International Rice Research Institute, and funded by the Department for International Development. It was named the most effective eco-initiative by a government or statutory body at the Climate Week Awards today.
The rice will save millions of lives as rising sea levels and storms are forecast to cause a 15% drop in rice production in developing countries.
In a trial in Bangladesh, 95% of scuba plants recovered after flooding compared to just 12% for a traditional variety. Local farmer Mohammad Shahidul Islam said it was "like magic".
The Secretary of State for International Development, Andrew Mitchell said:
"We are delighted that the UK's groundbreaking scuba rice project has won a prestigious national award.
"Scuba rice - and other projects like it has the potential to feed millions of people who would otherwise go hungry or worse and prevent the extreme hunger caused when crops fail due to flooding.
"Experts predict that natural disasters such as floods will increase, destroying crops and livelihoods. But thanks to British taxpayers, developments such as scuba rice will help farmers in the world's poorest countries adapt to a changing climate and ensure their communities are fed."
Published 21 March 2011