DFID and Liverpool FC promote Fair Play for Africa on health
Liverpool football coaches joined a drive to cut HIV deaths in Southern Africa at a DFID-hosted healthcare reception.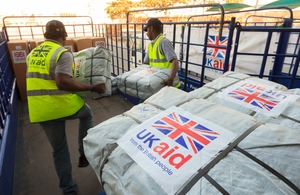 Liverpool football coaches teamed up with African civil society in the drive to cut HIV deaths in Southern Africa at a DFID healthcare event.
The event was part of the club's five-day trip to South Africa with Oxfam to help promote better healthcare and HIV and AIDS treatment through the Fair Play for Africa campaign.
Launched at the Africa Cup of Nations in Angola in January, it allies civil society organisations across Africa to push for universal access to HIV and wider health services, particularly those for women, who make up 60% of all those infected.
The campaign also aims to ensure governments in 10 African countries including South Africa meet their Millennium Development Goals on health.
Fair Play for Africa campaign manager, Wole Olaleye, said:
2010 is the year the whole world will descend on Africa.

African governments have made pledges to deliver quality healthcare and services to all Africans.

Fair Play for Africa wants to make sure our governments deliver on these commitments.
Forty per cent of the 33 million people living with HIV and AIDS globally live in Southern Africa.
DFID supports the South African government with its £25 million programme: Strengthening South Africa's Response to HIV and Health (SARRAH).
SARRAH is helping to ensure more people are able to access free quality health services and receive treatment for HIV in South Africa.
It also funds civil society organisations to push for and monitor national HIV and AIDS policy.
Treatment Action Campaign is one group that has received funds to monitor and push the HIV and AIDS National Strategic Plan.
It campaigns for the rights of people living with HIV and AIDS, ensuring equal access to HIV prevention and treatment, tackling stigma and discrimination, and helping victims of gender violence.
British High Commissioner to South Africa, Dr Nicola Brewer, said:
I hope South Africa's first World Cup will harness the magic of football to support campaigns throughout the world, like Fair Play for Africa.

They show how important football can be in achieving a better quality of life, particularly for everyone living with HIV and AIDS.

I would like to give my support - and that of the new UK government - to the Fair Play campaign and hope the visit of the delegation from Liverpool will help it achieve its goals.
Bill Bygroves, of Liverpool FC, said:
Working with Fair Play for Africa and Oxfam will bring hope to people living every day with poverty and inequality.

Seeing HIV on the scale it is here means we must take responsibility.
Published 24 May 2010