News story
DfE email addresses are changing
Update your Department for Education email address records from Saturday 1 October 2016.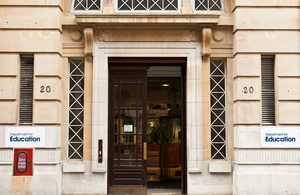 The Department for Education is updating its IT infrastructure. We're moving away from the 'Government Secure Intranet' (GSI) to cloud computing. As part of this change, the department will remove '.gsi' from DfE email addresses.
From Saturday 1 October you need to change existing email addresses from:
joe.bloggs@education.gsi.gov.uk
to
joe.bloggs@education.gov.uk
Make sure you update your records and any web applications or forms that use our email addresses.
Please be aware than any emails sent to gsi addresses after this change will not be received.
Email addresses are changing across government
Over the next 5 years, the government is phasing out '.gsi' from email addresses. Many departments have already made this change.
Our non-gsi email addresses are as secure as the current gsi addresses.
Contact us
If you have any questions about this change or need more information, please contact us.
Published 1 September 2016