Devonport plays host to international relief exercise
The ships - FS Primauguet from France, RFS Severomorsk from Russia, HMS Kent from the UK, and USS Mount Whitney from America - spent the week…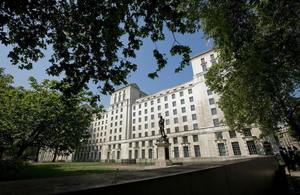 The ships - FS Primauguet from France, RFS Severomorsk from Russia, HMS Kent from the UK, and USS Mount Whitney from America - spent the week exercising together at sea and on land in the specific training area at the naval base.
FRUKUS 10 is an annual quadrilateral exercise which was originally established in 1988 as a means of enhancing operational capability and understanding between the four countries.
The exercise is now the cornerstone of navy-to-navy cooperation with Russia.
The scenario for this year's exercise took the form of a hurricane disaster and the teams had to offer humanitarian assistance and medical treatment to casualties, as well as coping with flash fires, flooding and sanitation problems.
During the exercise the task group had to cook and provide lunch to the casualties and visitors in a field kitchen type scenario.
Rear Admiral Chris Snow said:
The specific objectives of the exercise this year will focus on operating together as a task group and the sharing of information.

This is not easy given the different methods and equipments which nations use to maintain a maritime picture.

We will also engage in a disaster relief exercise to simulate arriving in a neutral country shortly after a hurricane to provide assistance to local authorities.
The host country for the exercise rotates annually with last year's exercise being held in France and next year America will host FRUKUS 11.
First Sea Lord, Admiral Sir Mark Stanhope, said:
I am delighted to once again welcome naval personnel from France, Russia, and the US to the United Kingdom for FRUKUS 10.

This is a tremendous opportunity for the four navies, who already operate together in counter-piracy missions, to develop their skills in the context of a realistic and contemporary exercise.

The Royal Navy is always very keen to promote partnerships and strengthen our links with maritime forces around the globe.

A common international approach to issues such as humanitarian assistance and peacekeeping support operations is very important, and both will be exercised in FRUKUS 10.
Published 23 July 2010