News story
Paterson praises support for political process
Secretary of State comments on the 23rd IMC report and praises community support for political process and devolution of policing and justice.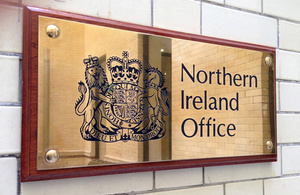 Secretary of State Owen Paterson MP has said that the 23rd IMC report published today by the government, has acknowledged the very real and serious threat from dissident republicans, intent on causing death and serious injury to the people of Northern Ireland.
Owen Paterson said:
The IMC report that the criminal justice system offers a potent response to paramilitaries, particularly now it is owned by and accountable to the people of Northern Ireland.
While dissident republicans remain highly active and dangerous, the IMC confirm that their activities are in no way a reappearance of something comparable to the old PIRA campaign, not least because of community support for the political process and the devolution of policing and justice. The General Election showed that there is overwhelming support for parties who want to make the political process work.
I agree that recent significant acts of decommissioning by both loyalist and republican paramilitaries mark a sea change in paramilitary activity. Northern Ireland still faces serious paramilitary challenges, but the decision by many to eschew violence, is a hugely important signal of change.
Published 26 May 2010