Developing the UK's global reach
Foreign Secretary William Hague talked about working with the Middle East and plans to develop the UK's global role in his speech to the Lord Mayor's banquet.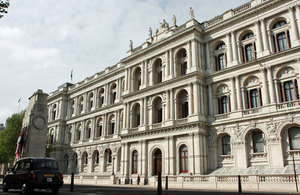 He described the Arab Spring as the "most significant development so far of the early 21st century."
"A Middle East of open and prosperous societies would transform the security of the world and brighten the prospects of millions of people."
"And in the very idea of Arab democracy there is the seed of Al Qaeda's long-term defeat and irrelevance."
"We remain firmly on the optimistic side of the Arab Spring. It shows that there is no part of the world where people are too cowed or crushed to care about their human rights."
Turning to the situation in Syria, the Foreign Secretary said that the behaviour of the Assad regime so far is as futile as it is morally indefensible. He said that if they truly mean what they have said about accepting Kofi Annan's plan to end the violence then it will be a significant step:
"But they have broken their commitments in the past, and they will need to convince a sceptical world and a wounded Syrian people."
"Today I have agreed to provide a further half a million pounds of British support to Syria's political opposition. It includes agreement in principle for practical non-lethal support to them inside Syria. It will help hard-pressed opposition groups and brave civil society organisations inside and outside the country to document the regime's violations and gain the skills and resources they need to help build a democratic future for Syria."
He warned of more sanctions if there is not a political transition that reflects the will of the Syrian people:
"President Assad and his allies …must be left in no doubt that if there is not a political transition that reflects the will of the people, then they will be shunned by the international community and we will close every door to them. They will face still more sanctions. Their assets will remain frozen. Their travel to Europe and many other nations will always be banned, as will the travel of their families. And they will be pursued by mechanisms of justice and held to account."
Speaking ahead of the E3+3 talks with Iran on its nuclear programme on 13 April, the Foreign Secretary said that the UK will approach the talks with "sincerity and genuine desire for a breakthrough":
"This can only come if Iran enters the talks in a new spirit.
"We are not seeking regime change in Iran. We look to the Iranian government to prove to the world that their nuclear programme is for peaceful energy, not for nuclear weapons, and to give up any plans to acquire them.
"Iran's isolation is not in the interests of the Iranian people. Iran faces unprecedented sanctions and from 1 July, will no longer be able to export crude oil into the European Union.
"It is in the Iranian government's power to end this isolation, and if they negotiate seriously on the concerns over its nuclear programme we will respond.
"But if they do not seize this opportunity, they should not doubt our resolve to prevent nuclear proliferation in the Middle East."
On Afghanistan the Foreign Secretary said that the UK's partnership with the country will endure:
"Every step we have made to build a viable Afghan state, to train their Armed Forces and to drive out Al Qaeda has been a brick in the wall of our common security."
"Anyone whose loved ones have served in Afghanistan or who has visited our troops there will know the grit, courage and sheer endurance it has taken to reach this point.
The Foreign Secretary also used the speech to set out Britain's plans to retain and develop its global role:
"This reinvigorated and expanded approach will be built on our strong alliances in Europe and with America, building new ones without sacrificing the old."
"Some people have argued for a long time and may even believe today that Britain's global role will shrink, that British Embassies are bound to close and that one day we will give up our UN Security Council seat or look to others to provide consular services for our nationals.
"But in a fast-changing world and as one of the few countries with a global reach we need to dispel this pessimism;
"In a more competitive world, we need more connections to prosper;
"And in a more multi-polar world, we need to be present in more places.
"In twenty years time we will be a nation with far closer ties in the emerging economies of the world than today.
"Our diplomatic network will have expanded….
"We will be in a position to use skilful diplomacy to work with the new groupings of the 21st century as effectively as we do with Washington and Brussels today.
"We will be more accustomed to working with new partners in foreign policy alongside our traditional allies to address the shared problems of our time."
He spoke of "reversing Britain's decline in Latin America". A new British Embassy will be opened in El Salvador.
"This determination to deepen our relations with Latin America is coupled with our steadfast commitment to the right of self determination of the people of the Falkland Islands."
Published 5 April 2012