World news story
Desmond Swayne MP, Minister of State for International Development arrives in Pakistan
Desmond Swayne MP arrived in Pakistan to meet with government officials, political leaders and members of civil society and business community.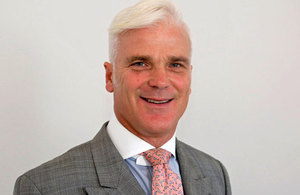 Desmond Swayne MP, Minister of State for International Development arrived in Pakistan today to meet with senior government officials, prominent political leaders and members of civil society and the business community.
Discussion during the visit will focus on the government's plans to improve economic stability, increase the tax base, tackle poverty, and generate growth and how the UK can best support its ambitious commitments.
Speaking in Desmond Swayne MP said:
I am pleased to be in Pakistan on my first visit to the country. Pakistan is one of the UK's most important development partners. What happens in Pakistan matters deeply to the UK. We have more than one million people of Pakistani descent living in the UK. We are bound together through business, family, and friendship.
Since the first historic democratic transition of power in 2013, the Government of Pakistan has shown a strong commitment to address the challenges facing the country. The government has taken some difficult decisions, but strong political will and consensus among political parties on a number of key issues has paved the way for economic reforms and development, which bodes well for more robust and sustainable growth in the future.
The UK is one of Pakistan's closest development partners and is committed to continue working with the Government of Pakistan at both the federal and provincial level to deliver on its commitment to create more jobs, improve access to health and education services, improve economic stability and drive Pakistan's growth to become a global economic player. This will enable millions of people in Pakistan to lift themselves out of poverty and have a brighter future and make for a more stable and prosperous Pakistan.
Pakistan is now one of the UK's top priorities for development investment. Priorities for the UK include tackling the education emergency, preventing thousands of women dying in childbirth by funding skilled midwives, nurses, or doctors for one million childbirths; providing job skills training to tens of thousands of the poorest people; and giving women in deprived households small monthly cash grants to purchase essentials, such as food and medicine.
Further Information
Across Pakistan, the UK is working closely with federal and provincial governments and partners on ambitious plans which will benefit millions of children and improve the standard of their education.

Pakistan is now one of the UK's largest recipients of development investment.

As well as tackling the education emergency, other priorities for the UK in Pakistan include preventing thousands of women dying in childbirth by funding skilled midwives, nurses, or doctors; providing job skills training to tens of thousands of the poorest people; and giving women in deprived households small monthly cash grants to purchase essentials, such as food and medicine.

UK development investment is dependent on continuing to secure value for money and results.

Find latest photographs from by visiting UKinPakistan Fickr Gallery

Biography of the visitor is also available at Gov.uk

DFID - the Department for International Development - Leading the British Government's fight against world poverty. Find out more at DFID Website
Published 22 July 2015