Press release
Derby to benefit from £4.4 million of government transport funding
A6 London Road bridge replacement agreed.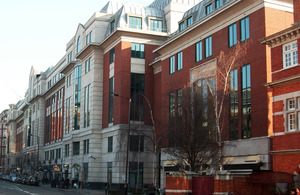 Plans to replace the sub-standard bridge carrying the A6 London Road over the Derby to Birmingham railway have been given the go-ahead, Transport Secretary Patrick McLoughlin confirmed today (19 March 2013).
The £6.884 million package will enable a full replacement of the bridge to national weight carrying standards.
Patrick McLoughlin said:
The £4.4 million we are putting into this project shows that the government is serious about investing in the infrastructure the country needs to drive economic growth.

This scheme will remove the weight restrictions imposed on traffic using this bridge. If not sorted, the situation will simply get worse and eventually lead to closure of this important radial route into Derby. The announcement I am making will ensure continued and improved access to the city centre and remove limits to the amount of development that could take place in the area.
The London Road (Derby) Bridge replacement major scheme was one of the schemes given funding approval in 2011 as part of the 'Spending review' process. Work is scheduled to start in May and be completed in September 2014.
Notes to editors
Today's (19 March 2013) announcement of the full (final) approval to the London Road (Derby) Bridge replacement major scheme, approval of which was made by Norman Baker, Parliamentary Under Secretary of State for Transport, enables work to begin.
The scheme promoted by Derby City Council is scheduled to open in September 2014.
The department will provide a maximum of £4.379 million towards the full scheme cost of £6.884 million.
Press enquiries: 020 7944 3118
Out of hours: 020 7944 4292
Public enquiries: 0300 330 3000
Published 19 March 2013