Press release
Derby residents show overwhelming backing for £220m A38 junction improvements
Derby residents have overwhelmingly backed plans for £220m improvements to 3 key junctions on the A38 in Derby.
This news article was withdrawn on
This document is no longer current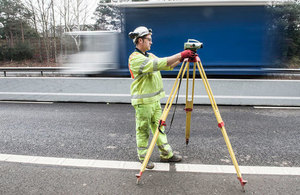 More than 80% of residents responding to a Highways England consultation agreed that the Little Eaton, Markeaton and Kingsway islands need improvements.
Project manager Monica Corso-Griffiths explained:
We had a phenomenal response to this consultation. More than 1,200 people came to see us at the event, and 739 of those responded in writing.

A huge 81% backed improvements to the junctions. But many wanted us to consider amendments to the designs we presented. These have been thoroughly reviewed, and we believe we now have the best performing designs for each junction.
Alternative suggestions from residents included building a tunnel under Derby itself, or creating a new bypass.
Monica Corso-Griffiths added:
We've investigated every proposal put forward to us in the consultation.

In some cases, these suggestions would have been too costly, or simply not feasible, or they wouldn't have fixed the problem of queues at these junctions.

In other cases, we've made tweaks to our proposals to reflect local people's feelings. We truly want to come up with the best possible scheme for local people.
The consultation, held in February and March this year, invited residents to comment on plans to create underpasses or flyovers at 3 key junctions on the A38 in Derby.
From those questioned, 70% agreed with our proposals for Kingsway junction, with most favouring the design with an access link at Kingsway Park Close.
At Markeaton, 67% agreed with our designs, which include replacing the pedestrian footbridge. But while the majority agreed with our ideas to improve the road itself, less than half of those we spoke to wanted us to replace the footbridge (49%).
Finally, at Little Eaton, 63% of respondents agreed with our plans. Many residents asked us to look back to options presented during the 2003 consultation. We have since assessed all these options – with the results suggesting the layout we presented at the consultation will perform best.
Some residents also raised environmental concerns around the Little Eaton designs.
Monica Corso-Griffiths said:
We are committed to adopting appropriate mitigation measures to minimise any impact on the environment.
Indeed, ecological surveys have already begun at the site, with white clawed crayfish, bats, badgers, otters and owls all found so far.
We've also surveyed the existing trees in the area next to Markeaton junction and found veteran oaks and other trees classes as valuable and important.

By finding these species early, we can consider the impact of our scheme on them, and design mitigation measures before we begin work.
The £220m Derby junctions project forms part of the Government's £11bn Roads Investment Strategy, to be delivered over the next 5 years by Highways England.
With Derby set to experience higher than average booms in population and employment, the improved junctions will be necessary to help the area cope.
On current plans, Highways England hopes to announce preferred options for the schemes by 2016.
For more information on the proposals, you can contact the project team on 0161 930 5997 or email A38derbyjunctions@highwaysengland.co.uk.
You can also view more information online at the scheme page.
General enquiries
Members of the public should contact the Highways England customer contact centre on 0300 123 5000.
Media enquiries
Journalists should contact the Highways England press office on 0844 693 1448 and use the menu to speak to the most appropriate press officer.
Published 13 November 2015