News story
Derailment of a freight train at Angerstein Junction, near Charlton
Investigation into a freight train derailment at Angerstein Junction, near Charlton in south east London, about 12:16 hrs on 2 April 2014
This news article was withdrawn on
This item has been moved to the National Archives as RAIB has published its report describing this accident. See Report 11/2015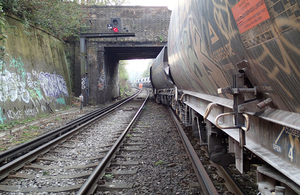 The train comprised 20 wagons, of the JRA and JGA types, hauled by a class 66 locomotive. It had just left sidings at Angerstein Wharf, where the wagons had been unloaded, and was travelling to Bardon Hill, Leicestershire. It then derailed, at a low speed, on a curved section of the single line track which links the sidings to the North Kent line at Angerstein Junction.
Our preliminary examination revealed that the leading bogie of the 9th wagon had derailed shortly after passing over a set of trap points about 30 metres before the junction with the North Kent Line, and that these points had been correctly set to allow the passage of the train. Shortly after the derailment occurred the front of the train stopped at a signal on the North Kent line. The driver was still unaware of the derailment and he restarted his train from this signal when it cleared. The trailing bogies of the 8th and 9th wagons were then pulled off the track as the derailed bogie ran over part of a cross-over between the Up and Down North Kent lines. The train continued along the Down line and was then stopped, about 180 metres from the initial point of derailment, by an automatic brake application caused when the brake pipe broke between the 9th and 10th wagons.
Although routed onto the Down North Kent line, the derailed wagons stopped in a position where they were foul of the adjacent Up line. Fortunately, there was no train on this part of the Up line when the derailment occurred.
In addition to damage to the derailed wagons, cabling and signal equipment, the derailment caused track damage. Train services on the North Kent line suffered disruption until 5 April.
Our investigation will seek to identify the sequence of events leading to the derailment and the factors that played a part. The investigation will include consideration of both track and wagon characteristics.
Our investigation is independent of any investigation by the Office of Rail Regulation. We will publish our findings, including any recommendations to improve safety, at the conclusion of our investigation. These findings will be available on our website.
You can subscribe to automated emails notifying you when we publish our reports and bulletins.
Published 9 May 2014