News story
Deputy Prime Minister's video message for Ramadan 2013
The Deputy Prime Minister has recorded a video message to mark the beginning of the holy month of Ramadan.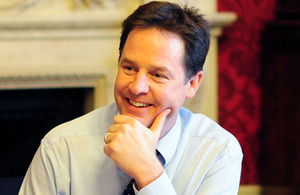 Deputy Prime Minister's video message for Ramadan 2013
Full transcript
Salaam alaykum. As Muslims during Ramadan around the world fast for self-discipline and improvement. Spend time in prayer and contemplation, and come together, united in a spirit of sacrifice, generosity and hope, I know the thoughts of many will turn, again to the suffering of the Syrian people. With thousands of people killed and wounded and millions driven from their homes. The British government is doing what it can to help alleviate this humanitarian crisis: supplying food packages, medical assistance, clean water supplies and other essential relief items to help those people and families in most urgent need of support. And we will continue to push, with our allies, for forces on both sides to come together to agree a peaceful end to this conflict. The values of peace, empathy and charity are an essential part of this holy month of Ramadan. And evident within the invaluable contributions made by British Muslims to support and strengthen local communities across the UK. And this year, I want to praise our Muslim communities for leading in a show of unity and support following the horrors of Woolwich. Their committed voice for peace helps to make Britain the tolerant, open and wonderfully diverse country it is today. Ramadan Mubarak.
Published 9 July 2013