Deputy Prime Minister's message for the Queen's Diamond Jubilee
Deputy Prime Minister Nick Clegg has recorded a video message to mark the sixtieth anniversary of Her Majesty the Queen's reign.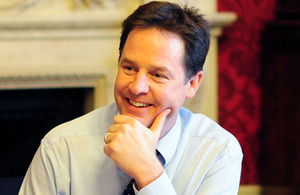 Nick Clegg message for the Queen's Diamond Jubilee
Full transcript:
I'd like to take this opportunity to pay tribute to Her Majesty the Queen on this, the sixtieth anniversary of her reign.
Over the last six decades our nation, our world, have been dramatically transformed. And while politicians have come and gone, at each juncture, each upheaval, each moment of change, Her Majesty has been a source of continuity and wisdom. A centre of dignity and calm.
She's a queen famous for her quiet steeliness, the strength of her resolve, but personally I am always struck by her great warmth, her rare ability to put all those she meets at ease. She is a remarkable person, who has helped steer this country through remarkable times.
And it's only right that we mark her Jubilee with the sense of occasion it deserves, and of course by having a good time. Friends, neighbours, families will be coming together up and down the country and wherever you are, whatever you're doing, I hope you take the opportunity to let your hair down and enjoy yourselves. Have a fantastic break.
Published 1 June 2012