Deputy Prime Minister welcomes £100 million green investment fund and new jobs at Olympic energy summit
Nick Clegg: "There is a global energy revolution underway. "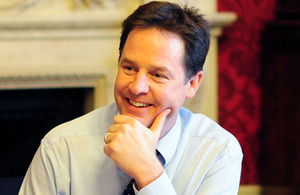 The Deputy Prime Minister today set out how the renewable energy sector is delivering vital investment and jobs to the UK, as Dagenham-based firm Closed Loop Recycling announces plans to double its capacity, creating and safeguarding 100 jobs.
The Deputy Prime Minister also announced a government contract by UK Green Investments (based at the Department for Business, Innovation and Skills) to provide £100 million of initial funding to Equitix and SDCL.
In his opening speech at the Government's British Business Embassy on Energy at Lancaster House, Deputy Prime Minister Nick Clegg said:
The UK is the sixth largest market in low carbon goods and environmental services and this Coalition Government is unreservedly committed to helping our low carbon sector thrive. We seek nothing less than a clean, green, low carbon economy.
There is a global energy revolution underway. And the UK is not going to be left behind. We're leading from the front. Together we find ourselves at the vanguard of one of the most dynamic, most innovative, most important industries of our time; An industry whose breakthroughs and endeavours will shape our societies for years to come; An industry that will help us build a more stable, more sustainable, more prosperous world.
Today's summit is the first of two days focusing on energy that are among 18 global business summits being organised by UK Trade & Investment (UKTI) over the course of the Olympic Games.
Published 6 August 2012