News story
Deputy Prime Minister visits Turkey to secure deals for British business
The Deputy Prime Minister will be joined by Business Minister Michael Fallon and a business delegation of 18 CEOs and Senior Executives from…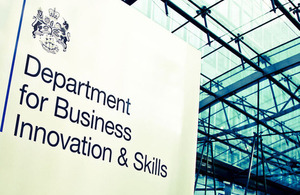 The Deputy Prime Minister will be joined by Business Minister Michael Fallon and a business delegation of 18 CEOs and Senior Executives from companies including Arup, Mott McDonald, AECOM, Lloyds of London and Cella Energy. Together they will discuss possible new deals and business ventures with their Turkish counterparts potentially worth up to half a billion pounds.
The Deputy Prime Minister will also hold a series of high level bilateral meetings with Turkish leaders including President Gul, Prime Minister Erdogan and Deputy Prime Minister Babacan.
During his visit the Deputy Prime Minister will announce:
Turkish company HDM Steel Pipe is to open a £7 million manufacturing facility in Cardiff, creating 38 jobs in the city with scope for further expansion in the future. The new jobs will provide employment for skilled operators, as well as administration, planning and logistics roles.

West Midlands company Concept Steels have agreed a contract with Turkish company Vastas A. S. provisionally valued at £5 million to export alloys, exotic metals and components for the oil, gas and petrochemical industries to third markets such as Italy, Spain, Saudi Arabia and Croatia.

Leading Turkish hospital group Florence Nightingale is establishing their European headquarters in London, creating 8 new jobs. The strength of the NHS brand and British universities helped secured this initial £100,000 investment.

Project management and construction consulting services company Hill International is to open a new Turkey and Central Asia (the Caucasus) regional office in early November 2012 as part of its efforts to secure contracts worth up to £250 million.
Deputy Prime Minister Nick Clegg said:
"It's fantastic to be announcing new jobs for the UK and such an impressive set of deals for British businesses.
"Turkey is Europe's seventh largest economy and is one of the worlds largest markets. My main aim this week is to ensure that more UK firms can capitalise on the economic opportunities Turkey offers.
"We have an ambitious aim to double bilateral trade by 2015. It has increased by 40 per cent since 2009 so we are making good progress towards the target, and this visit will bring us even closer."
Last year Turkish imports of British goods and services rose by 20% and over 2,200 British companies have invested in Turkey, including high street names Marks & Spencer, TESCO, Vodafone, HSBC, and Laura Ashley.
The Deputy Prime Minister will also sign a memorandum of understanding with Europe Minister Ba???, which will agree a project to train 350 lawyers on the judicial standards required by the EU.
Turkey** Factfile
*** Turkey is the world's eighteenth and Europe's seventh biggest economy.
Turkish GDP grew by 8.5 per cent in 2011, making the country the fastest growing economy in Europe. The Istanbul economy alone is larger than 12 EU countries combined.

Turkey's total export volume was $135 billion in 2011. The government's official target is to increase exports to $170 billion in 2015 and $500 billion by 2023.

Turkey's biggest export partners are Iran, Germany, Iraq, UK, Russia and Italy. Turkey's biggest import partners are Russia, China, Germany, US and Italy.

In 2011, bilateral trade exceeded £9 billion, nearly a 40 per cent rise since 2009. Turkey's export market is barely 2.4 per cent so there is huge market potential.

The UK is currently Turkey's fourth biggest export partner.

Forbes magazine (2011) states that Istanbul is ranked fourth in the world for billionaires behind Moscow, New York and London.

Turkey has the youngest and fastest growing population in Europe with 700,000 graduates a year. It is estimated that Turkey will be in the top ten GDP economies by 2023.

Turkey has the second largest construction and contracting sector in Europe. It is Europe's number one TV manufacturer and bus manufacturer.
**Notes to editors
**1. Other companies travelling as part of the business delegation have recently announced new business with Turkey:
AECOM, a leading design firm who master planned the London 2012 Olympic Park, and has won the master planning contract for the Rio 2016 Olympic Park, recently announced that they have been selected as project manager for the first phase of the USD $2.2 billion Bio Istanbul project. The company is in Turkey this week to investigate potential business opportunities in property development, transportation - including support for the forthcoming motorway privatisation programme - and in culture and leisure. Bio Istanbul is utilising a combination of AECOM's specialist healthcare consultants from the UK alongside their team in Istanbul to hel p deliver Turkey's first state-of-the-art tertiary care children's hospital.

Mott MacDonald have been involved in projects in Turkey for over 20 years. Much of the company's recent work has been working as traffic, commercial, technical and environmental advisors on almost all of the private sector airport developments. This includes Istanbul Ataturk, Ankara, Antalya, Izmir and the new Zafer International Airport, due to be opened at the end of October 2012.

Lloyd's of London has identified Turkey as a key market with major infrastructure and energy development opportunities. The world's specialist insurance market highlighted the importance of Turkey in May when Prime Minister David Cameron launched its new long term strategy - Vision 2025.
In September, BEKO, a leading Turkish home appliances brand announced that it will be sponsoring the FA Cup for the 2013-14 season. BEKO previously sponsored the pavilion at UK Trade & Investment's British Business Embassy at Lancaster House.

The Government's economic policy objective is to achieve 'strong, sustainable and balanced growth that is more evenly shared across the country and between industries.' It set four ambitions in the 'Plan for Growth' (PDF 1.7MB), published at Budget 2011:
To create the most competitive tax system in the G20
To make the UK the best place in Europe to start, finance and grow a business
To encourage investment and exports as a route to a more balanced economy
To create a more educated workforce that is the most flexible in Europe.
Work is underway across Government to achieve these ambitions, including progress on more than 250 measures as part of the Growth Review. Developing an Industrial Strategy gives new impetus to this work by providing businesses, investors and the public with more clarity about the long-term direction in which the Government wants the economy to travel.
UK Trade & Investment (UKTI) is the Government Department that helps UK-based companies succeed in the global economy. We also help overseas companies bring their high quality investment to the UK's economy - acknowledged as Europe's best place from which to succeed in global business. UKTI offers expertise and contacts through its extensive network of specialists in the UK, and in British embassies and other diplomatic offices around the world. We provide companies with the tools they require to be competitive on the world stage. For more information on UKTI, visit www.ukti.gov.uk or visit the online newsroom at www.ukti.gov.uk/media.
Notes to Editors
Contact Information
Name BIS Press Office Job Title
Division Department for Business, Innovation & Skills Phone
Fax
Mobile
Email bispress.releases@bis.gsi.gov.uk
Name Michael Gibbs Job Title
Division Department for Business, Innovation and Skills Phone 020 7215 1635 Fax
Mobile
Published 3 October 2012