Deputy Prime Minister visits Turkey
Deputy Prime Minister Nick Clegg is leading a business delegation to Turkey to strengthen diplomatic and business ties.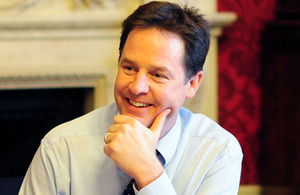 Mr Clegg will today announce a number of lucrative deals for British businesses, including new jobs in Cardiff.
The Deputy Prime Minister will be joined by Business Minister Michael Fallon and a business delegation of 18 CEOs and Senior Executives from companies including Arup, Mott McDonald, AECOM, Lloyds of London and Cella Energy. Together they will discuss possible new deals and business ventures with their Turkish counterparts potentially worth up to half a billion pounds.
Mr Clegg will reinforce the two government's ambition of doubling bilateral trade by 2015 and focus on areas where deepening ties will reap the biggest rewards.
During his visit the Deputy Prime Minister will announce:
Turkish company HDM Steel Pipe is to open a £7 million manufacturing facility in Cardiff, creating 38 jobs in the city with scope for further expansion in the future. The new jobs will provide employment for skilled operators, as well as administration, planning and logistics roles.
West Midlands company Concept Steels have agreed a contract with Turkish company Vastas A. S. provisionally valued at £5 million to export alloys, exotic metals and components for the oil, gas and petrochemical industries to third markets such as Italy, Spain, Saudi Arabia and Croatia.
Leading Turkish hospital group Florence Nightingale is establishing their European headquarters in London, creating 8 new jobs. The strength of the NHS brand and British universities helped secured this initial £100,000 investment.
Project management and construction consulting services company Hill International is to open a new Turkey and Central Asia (the Caucasus) regional office in early November 2012 as part of its efforts to secure contracts worth up to £250 million.
The Deputy Prime Minister will also hold a series of high level bilateral meetings with Turkish leaders including President Gul, Prime Minister Erdogan and Deputy Prime Minister Babacan.
Aside from business, Mr Clegg and Turkish leaders will be discussing, how the UK and Turkey can further improve their response to the humanitarian tragedy unfolding in Syria.
Published 3 October 2012