Deputy Prime Minister visits Paris
Deputy Prime Minister Nick Clegg has met with the French Prime Minister, François Fillon, and Finance Minister, François Baroin, in Paris.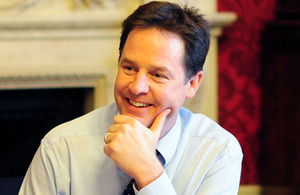 Discussion centred on the debt crisis, European economic reform and military cooperation.
The Deputy Prime Minister said: 
UK-France co-operation is at a high. Our pilots are flying missions together over Libya as part of the UN-backed, NATO operation to protect civilians - implementing a UN resolution that our two countries were instrumental in securing. And we're working together to bring stability to Afghanistan too.

Our nations have come a long way since the last Middle East conflict, Iraq, where the French and UK governments didn't see eye to eye on the war in Iraq. My party didn't support that war and I'm pleased we are now putting it behind us. Today Iraq looks like an aberration.

France and the UK are natural partners - in size, capabilities, and in terms of our histories as active players on the world stage. Our co-operation in Libya and the defence treaties we signed in 2010 are a harbinger of potential for the future. 

President Sarkozy has played a vital role in putting France back at the heart of NATO, and continuing our exceptionally close partnership at the UN on Libya, Syria, Iran and the Middle East Peace Process.

Financial realities mean that we have to work together, but we do so also because we want to. As countries and partners, we have moved beyond the shadow of Iraq to an exciting era of co-operation in matters of defence.
The Deputy PM met with business leaders at le Mouvement des Entreprises de France (MEDEF) and gave a speech to an audience of business people and diplomats.
In his speech Mr Clegg set out the challenge for all European Governments in the current debt crisis and the need for widespread economic reform.
The Deputy PM also attended a town hall Q & A event with French students organised by the British Council.
Published 8 July 2011