Deputy Prime Minister urges people to learn from "darkest period in human history"
Video message from the Deputy Prime Minister to mark Holocaust Memorial Day.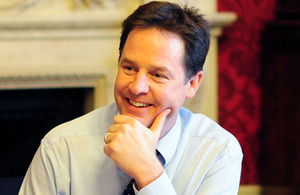 Deputy Prime Minister Nick Clegg has marked Holocaust Memorial Day by asking people to learn from the darkest period in human history, and to set their sights on a more compassionate future.
The Deputy PM spoke of how his mother was one of the millions affected by the war, being forced to spend part of her childhood in a prisoner of war camp. Mr Clegg went on to pay tribute to those who suffered in the Holocaust, saying that while there were millions of stories of loss and of suffering, there were also stories of great personal courage and sacrifice.
Nick Clegg said:
Today we honour the millions of men women and children who suffered at the hands of the Nazis, by remembering those experiences, by learning from them, by taking their stories and being driven by them in today's fights for freedom and human rights.

We honour the victims of the Holocaust by standing against those who right now across the world seek to peddle hate and prejudice, by insisting that this century will not repeat the horrors of the last.
Published 27 January 2011