News story
Deputy Prime Minister announces new Local Growth Committee
Deputy Prime Minister Nick Clegg has announced the creation of a new Cabinet committee – the 'Local Growth Committee'.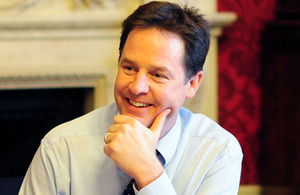 The Local Growth Committee will bring together the Secretaries of State from all the key economic departments, bringing together the ministerial groups previously chaired by the Deputy Prime Minister (DPM) on the Regional Growth Fund (RGF) and City Deals. It will provide oversight across the local growth agenda to drive jobs and growth across England.
Making the announcement at a speech in Sheffield marking the 100th anniversary of the discovery of stainless steel, Nick Clegg said:
What I've realised is that if you want to give more power back locally - such as the freedom to drive local enterprise, more power to retain business rates and generate investment - you've also got to change what happens at the centre. We need to break down the silos that exist in Whitehall, with the right hand not talking to the left hand…

That's why I'm a chairing a new committee, working with the Chancellor, that will knock down these walls and bring all these departments together. So that where there's an opportunity locally, you can rely on us centrally to deliver what we've promised.
Potential committee agenda items include the implementation of the 1st wave of City Deals, signing off the 2nd wave of City Deals and allocation of RGF money. It is also likely to discuss the design and implementation of the Single Local Growth Fund and look at cases where infrastructure policy could impact upon particular localities.
The DPM will chair the committee with Chancellor George Osborne as deputy chair. Other members will include Vince Cable, Michael Gove, Eric Pickles, Ed Davey, Patrick McLoughlin and Danny Alexander. The Committee will meet on ad-hoc basis but intends to meet for the first time before the summer recess.
Published 12 June 2013