News story
Deputy Prime Minister opens £30 million Thameside Distribution Centre
Deputy Prime Minister Nick Clegg has opened Sainsbury's new £30 million Thameside Distribution Centre in Greenwich, south east London.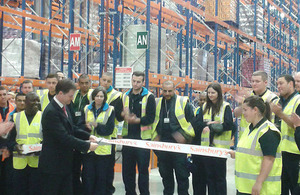 The state-of-the-art 250,000 sq ft facility will eventually create 600 jobs on site, making it one of the most significant employers in the local area.
It will also support the expansion of Sainsbury's outlets in London and the south east.
Speaking to Sainsbury's staff, the Deputy Prime Minister said:
"This investment is a vote of confidence in Britain's recovery. It's a long-term commitment that will boost growth and generate jobs in Charlton and beyond.
"It's already created 350 new jobs right here, with more planned for the future. It's also supporting a thousand more jobs across Sainsbury's stores in the south east.
"That's hundreds of people in work, building a career and securing their future."
The distribution centre will also feature sustainability measures including rainwater harvesting on the roof, electric car charging points in the staff car park and LED light fittings. General waste will all be recycled or put to positive use like being turned into fuel.
Published 25 June 2013