Deputy Prime Minister: New £1 billion boost for regional growth
The £1 billion third round of the government's Regional Growth Fund will create or safeguard thousands of jobs over the long term.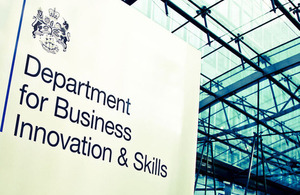 The £1 billion third round of the government's Regional Growth Fund will create or safeguard thousands of jobs over the long term, benefitting around 130 projects and leveraging £6 billion of private sector investment, the Deputy Prime Minister will announce today.
The 130 selected bidders to the fund, which will use public money to leverage private sector investment, were whittled down from an initial 414 applications through a competitive process.
The government investment will help manufacturing firms, small businesses and local partnerships across England to expand their operations, create new jobs and stimulate growth - the Government's top priority.
Bidders will be putting in £6 billion of their own cash for these projects and programmes which are expected to create and safeguard more than 240,000 jobs over the long term. This comes in addition to the 300,000 jobs that are being created or safeguarded from rounds 1 and 2 of the fund - the majority of which are being added over the next 5 years.
Figures show that for every £1 of taxpayer money spent, the Fund will leverage £6 of private sector investment. This will be key to sustaining jobs for the long term.
£697 million of the £1.05 billion pot (which includes £55 million recycled from rounds one and two) will go to the private sector including 101 companies. A further £358 million will go to 29 intermediaries such as local authorities and local enterprise partnerships to ensure that funding goes to local growth priorities in parts of the country that need it most.
The announcement will be made in the North East as the Deputy Prime Minister visits two companies that have benefited from the Regional Growth Fund.
Deputy Prime Minister Nick Clegg said:
This £1 billion boost for growth in towns and cities across England is creating jobs that will last in the parts of the country that need it most.

In tough economic times the Regional Growth Fund is good value for taxpayers' money - this £1 billion round of the fund is pulling in £6 billion of private sector investment.

I have seen for myself the real difference this makes on the ground - from iconic businesses like Eddie Stobart expanding in Widnes and creating 3,450 jobs in the local area, to the Sunderland car parts factory, Unipres who have used their funding to buy a new 3,000 tonne press, letting them accelerate production and take on an extra 316 people.

The Regional Growth Fund is working, on track and supporting businesses to create jobs and grow the economy.
The Business Secretary, Vince Cable was in Liverpool yesterday to visit Redx Pharma, a UK-based pharmaceutical company which has been allocated £4.7 million in round 3 for research into drugs against microbial infection, influenza, hepatitis C and HIV. The project is expected to create 119 jobs over five years.
Speaking at Redx Pharma, Vince Cable said:
The Regional Growth Fund is creating the long-term growth and jobs that this country needs. The projects support important local priorities and there is a good alignment with key sectors in our Industrial Strategy including automotive, aerospace and life sciences.

Redx Pharma's previous award of £5.6 million in round two has already helped them establish an impressive oncology research centre and has created over 50 new jobs since April this year. I look forward to seeing the progress of vital drugs research they intend to carry out thanks to their round three award.
Business Minister, Michael Fallon said:
Round 3 created a lot of high-quality demand for the fund which made the decision process very tough. However the selected bidders represent a good breadth of different sectors and a strong distribution across the country.

The selection process has been very fast - from companies applying to allocating funds in only five months. So we are keen to get a move on which is why this time, those selected have now only three months to agree final offers, and three months to complete due diligence. We want to ensure good value for the taxpayer and to get these projects started as soon as possible.
Local Growth Minister, Mark Prisk said:
Local enterprise partnerships need the right tools and resources to help deliver growth and jobs in their communities. So I'm delighted to announce today that over £350m will be shared between 29 partnerships, enabling them to build on their successes and plan for the future. This funding will ensure they remain locally-led, and focused on helping to boost businesses in their area without the need for long-term central-Government support.
Michael Fallon also provided Parliament with an update on previous rounds of the Regional Growth Fund which showed that there is now a firm and agreed position with nine out of ten bids from rounds one and two; and that six out of ten projects have started (or 160 projects and programmes). 29 bidders have withdrawn, allowing over £108 million to be recycled back into the Regional Growth Fund.
Bidders have begun to report back on jobs which demonstrate that over 10,000 jobs have been created and protected so far, and many more jobs will follow as private investment flows to different projects. And those 160 projects and programmes that have started will inject almost £4.9 billion of private investment into our economy.
Notes to editors
For a full list of the round three selected bidders please go to www.bis.gov.uk/rgf (active on 19 October)

Regional factsheets and case studies are also available which can be obtained by ringing the BIS press office on 0207 215 5945.

All conditional offers are submitted in commercial confidence and BIS will not be able to provide further details on specific companies.

Regional split by number of offers and fund allocation:
Region Projects and Programmes/allocation
East Midlands - 5 - £14 million
East of England/London - 4 - £37 million
Nationwide - 9 - £224 million
North East - 25 - £105 million
North West - 22 - £88 million
South East - 3 - £16 million
South West - 7 - £72 million
West Midlands - 17 - £124 million
Yorkshire and Humber - 11 - £26 million
Local enterprise partnerships - 27 - £344 million
Total £1.05 billion
The list of projects and programmes that have been selected for round three are:
Regional breakdown
East Midlands
Projects: 5
Cummins Generator Technologies Limited (CGT)
BCM Limited
Guildford Mills Limited
Lee Ann Fashions Limited
Romax Technology Ltd
East of England & London
Projects: 4
e2v technologies ltd.
Perkins Engines Company Ltd (part of Caterpillar UK Holdings)
The Welding Institute (TWI)
Ford Motor Company Ltd
North East
Projects: 25
Actem (UK) Limited
Applied Superconductor Ltd
Caterpillar Peterlee, A Division of Caterpillar UK Limited
CAV Aerospace Limited
Chemoxy International Ltd
Ebac Group Limited
Fabricom Offshore Services Limited
High Integrity Products Group Ltd
J Barbour & Sons Ltd
Komatsu UK Limited
Magma Global Limited
Nifco UK Ltd
Five Quarter Energy Limited
NSK Bearings Europe Ltd
Offshore Group Newcastle Limited
PD Teesport Limited
Prom Chem Limited
SABIC UK PETROCHEMICALS LIMITED
SCM Pharma Limited
Siemens Transmission and Distribution Ltd
SNF Oil and Gas Limited
Tata Steel UK Rail Consultancy Limited
Tees Valley Unlimited
TRW Systems Ltd
Withdrawn
Programmes: 1
UNW LLP on behalf of Trinity Mirror North East
North West
Projects: 20
AstraZeneca PLC
Atlantic Container Line UK Ltd.
Bentley Motors Limited
Computionics Ltd
Daresbury SIC LLP
Eli Lilly and Company Limited
Erlson Precision Components Limited
General Motors UK Limited
Jaguar Land Rover
James Cropper plc
Kilgour Metal Treatments Ltd
Lakeland Arts Trust
Liverpool School of Tropical Medicine (LSTM)
Novartis Vaccines & Diagnostics Ltd.
NXP Semiconductors UK Ltd
Pentagon Chemicals (Holdings) Limited
PMT industries Limited
Redx Pharma Ltd
S Cartwright & Sons (Coach Builders) Limited
Unilever UK Central Resources Limited
Programmes: 1
South East
Projects: 1
Programmes: 2
Isle of Wight (IoW) Marine Business Partnership
Sea Change Sussex
South West
Projects: 6
AgustaWestland
AgustaWestland Limited
Dyson Ltd
GE Aviation Systems
Plessey Semiconductors Limited
Wiltshire Council and Wrenbridge Land Ltd / Trebor Developments LLP Joint Venture
Programmes: 1
West Midlands
Projects: 16
Aston Martin Lagonda Ltd.
Aston Martin Lagonda Ltd.
Aston Martin Lagonda Ltd.
Aston Martin Lagonda Ltd.
Bladon Jets (UK) Limited
BRM Packaging Limited
Cab Automotive Ltd
GE Power Conversion
Dana UK Axle Limited
Goodwin PLC
Jaguar Land Rover
Jaguar Land Rover
Pailton Engineering Ltd
Robert Bosch Limited
Turner Powertrain Systems Limited
WWRD United Kingdom Ltd
Programmes: 1
University of Wolverhampton
Yorkshire and the Humber
Projects: 11
AESSEAL PLC
ATB Morley Ltd
BorgWarner Ltd
Cementation Skanska Limited
DePuy International Ltd
Harvard Engineering
Hydra-Valve Advanced Valve & Pipeline Solutions Ltd
J H Fenner & Co Ltd
Koyo Bearings (Europe) Limited
Leeds City Council
Redirack Ltd
Local Enterprise Partnerships
Programmes: 27
Arch (Commercial Enterprise) Ltd
Coverntry and Warwickshire Local Enterprise Partnership
Cumbria Local Enterprise Partnership
D2N2 Local enterprise Partnership
Exeter and East Devon Growth Point
Greater Birmingham and Solihull LEP
Greater Manchester Local Enterprise Partnership
Humber Local enterprise Partnership
Lancashire Business View
Leeds City Council, on behalf of Leeds City Region LEP
Leeds City Region Local Enterprise partnership
Leicester & Leicestershire Enterprise Partnership (LLEP)
Liverpool City Region Local Enterprise Partnership
New Anglia Local Enterprise Partnership
North East Local Enterprise Partnership (NELEP)
North Staffordshire Chanmber of Commerce & Industry (NSCCI)
Northamptonshire Enterprise Partnership (NEP)
Nottingham City Council on behalf of Nottingham Technology Grant Fund Group)
On behalf of Ellesmere Port Development Board (EPDB)
Sandwell Metropolitan Borough Council
Sheffield City Region LEP
Solent LEP
Solent LEP
Tees Valley Unlimited
Thames Gateway Kent Partnership
West of England Local Enterprise Partnership
Wirral Council
Nationwide
Programmes: 9
The Royal Bank of Scotland Group plc
Close Brothers Group plc
Finance For Industry Limited
ING Lease UK Ltd
Sharing in Growth
UK Steel Enterprise Limited
Lloyds Banking Group (Lloyds TSB Bank plc and Bank of Scotland plc)
University of Sheffield
Grant Thornton UK LLP
Projects are a type of RGF bid for funding which go direct to the final beneficiary whether it's a company, local authority or non-profit body. A programme is a type of RGF bid which will be awarded to an intermediary who will then use it to run a grant or loan scheme for final beneficiaries in a particular place or sector.

The RGF is a £2.4bn fund operating across England from 2011 to 2015. It supports projects and programmes that lever private sector investment to create economic growth and sustainable employment.

The Government's economic policy objective is to achieve 'strong, sustainable and balanced growth that is more evenly shared across the country and between industries.' It set four ambitions in the 'Plan for Growth' (PDF 1.7MB), published at Budget 2011:
* To create the most competitive tax system in the G20
* To make the UK the best place in Europe to start, finance and grow a business
* To encourage investment and exports as a route to a more balanced economy
* To create a more educated workforce that is the most flexible in Europe.
Work is underway across Government to achieve these ambitions, including progress on more than 250 measures as part of the Growth Review. Developing an Industrial Strategy gives new impetus to this work by providing businesses, investors and the public with more clarity about the long-term direction in which the Government wants the economy to travel.

BIS's online newsroom contains the latest press notices, speeches, as well as video and images for download. It also features an up to date list of BIS press office contacts. See http://www.bis.gov.uk/newsroom for more information.
Contact Information
Name BIS Press Office
Division Department for Business, Innovation & Skills
Email bispress.releases@bis.gsi.gov.uk
Name Ed Smith
Division Department for Business, Innovation and Skills
Phone 020 7215 5945
Email ed.smith@bis.gsi.gov.uk
Published 19 October 2012