Deputy Prime Minister meets students at Colchester Institute
Nick Clegg visited Colchester Institute today where he set out the government's commitment to getting all young people earning or learning.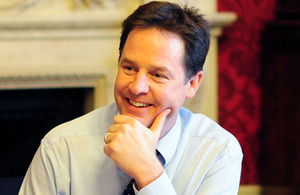 On the visit, he met with students, staff and business leaders as well as watching a cookery lesson first hand.
The visit follows the unveiling of the Youth Contract - a Government package of £1billion to provide unemployed young people with more opportunities including apprenticeships and work experience placements. The aim is to make sure every young person has the opportunity to take part in meaningful workplace activity that will help them to find permanent employment.
The latest unemployment figures show that 4.9 per cent of 18-24 year olds in Colchester are claiming Jobseeker's Allowance.
Deputy Prime Minister Nick Clegg said:
These are tough economic times, but the Government is doing everything it can to make sure young people get the start in their adult life they deserve. We want to see every young person either earning or learning and that's what the Youth Contract will do.

Colchester Institute is giving thousands of students the opportunity to develop their skills and talents, not just in the classroom but together with real-world employers. We want to make sure that when students leave education they have the best chance to make a successful transition into the world of work.

Unemployment rates in Colchester are lower than the rest of the country, but it's crucial that we don't leave anyone behind, and the Youth Contract will help give opportunities to young people who can't find work so they can secure proper, lasting employment.
Danny Clough, Principal of Colchester Institute, said:
We were delighted to welcome the Deputy Prime Minister to Colchester Institute and share his determination to provide students with the best possible range of skills to succeed in the workplace.
The Youth Contract:
Will provide nearly half-a-million new opportunities for 18-24 year olds over the next three years, starting next April.
Includes 160,000 job subsidies and 250,000 new work experience places.
Will provide at least at least 20,000 more incentive payments to encourage employers to take on young apprentices.
Also includes a new programme to help the most disengaged 16 and 17 year olds - getting them back to school or college, onto an apprenticeship or into a job with training.
On arrival at Colchester Institute, The Deputy Prime Minister was met by the Principal, Danny Clough, before sitting down to meet representatives of businesses who are providing internships, work place visits, apprenticeship links and mentoring opportunities for students. He then visited the Chefs Centre at the College, where he observed cookery lessons in action, before addressing an assembled group of students and apprentices.
The Deputy Prime Minister made the visit following a meeting of the Cabinet in Ipswich earlier in the morning.
Notes to Editors
Published 5 December 2011