Press release
Deputy Prime Minister launches more 'City Deals'
Powers to grow for twenty cities.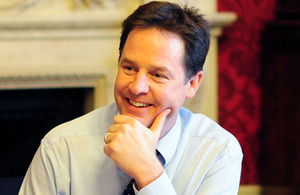 Deals that will set twenty cities free from the Whitehall leash have been announced by the Deputy Prime Minister in a decentralisation speech at Mansion House in London.
The speech is the first of an annual speech slot that has now been reserved for deputy prime ministers. Last summer, eight of England's largest cities confirmed deals with the Government to boost local growth.
Now twenty more cities will get the green light to go ahead and negotiate plans to get the freedom, powers and tools needed to shape their economic future.  
The deals will be reached between Government and cities so that local areas can bid for new powers that will enable them to grow. In return for cities' strong plans for growth the government will devolve financial and planning powers to let cities take charge of their own destinies - from autonomy over how to spend their training and skills budgets, to creating local investment funds to build roads and unlock developments. 
Deputy Prime Minister, Nick Clegg said:
Even more places will be free from Whitehall control and have the tools to power their own growth. These deals help cities and their wider areas make once in a generation changes that will be felt by everyone across their region.

Letting go of power and money doesn't come naturally to Whitehall. Over time, the economic importance of other parts of the country has been devastatingly downplayed, as the economic elite have narrowed the debate towards a London-centric view.

Rather than let our industries and communities wither, we need to free up cities outside of London that have their own unique selling points.
Financial Secretary to the Treasury and Minister for Cities, Greg Clark, said: 
Britain's economic success depends on our cities being successful - they are where most people live, work and study, and where most businesses are located.  Each city is unique, yet for decades Whitehall has treated them as being the same - there has been too little sense of place in government policy.

City deals are a quiet revolution in the way Britain is governed. Rather than London laying down the law, cities have the right to do things their way.  The stories of their own futures will be as individual as their unique histories.

Having begun with eight cities there has been enormous demand by other cities to be part of the action.  Today's invitation gives twenty more cities the chance to be part of this revolution. 
In October 2012, as part of the deal process, twenty cities were invited to submit bids to get a City Deal. Each area worked with local partners and their Local Enterprise Partnership to put forward proposals.  
Following careful assessment of the bids - which are judged on whether they are ambitious, robust and can attract private sector investment - the government has decided to enter negotiations with every city on a staggered timeline. 
What happens next?
The Government will now work closely with cities to develop the proposals in more detail and to negotiate a final deal. We will aim to complete deals with the twenty cities over the next year. 
What's on offer?
Cities will have the chance to negotiate deals that give them the levers and powers they need to drive economic growth in their local areas. It's an opportunity to try out new and innovative approaches. 
Cities facts
The areas, proposed by the cities themselves, account for 41% of England's population and 39% of the jobs market. When combined with the core cities which concluded their deals July 2012, these areas account for 71% of the population of England and 68% of the jobs.  
The 20 cities and their outline proposals: 
Black Country: want to use a City Deal to grow their high-value manufacturing sector. They want to build on the Black Country's track record in designing, building and exporting components and products such as aircraft control systems, turbo technology and an extensive range of automotive components.  
Bournemouth and Poole: want to use a City Deal to encourage a transition to a more balanced local economy by boosting Advanced Manufacturing (particularly marine and aerospace) as well as digital and creative industries.
Brighton and Hove: want to use a City Deal to realise the economic potential of their eco-tech sector.  This is a new, and growing, sector in Brighton & Hove. The universities have developed specialisms in this area.  Brighton and partners want to build on this and encourage more innovation and business growth. 
Greater Cambridge: want to use a City Deal to unleash the next wave of the "Cambridge Phenomenon", which is a cluster of high-tech firms that focus on biotechnology, software and electronics around Cambridge, many of which have links with Cambridge University. Greater Cambridge wants to spread the "brand" of Cambridge over a broader area by creating better links between the science and business parks (e.g. Babraham Research Campus), the city centre (where Cambridge and Anglia Ruskin Universities are based), strategic transport routes and key residential sites (including the new town development of Northstowe), as well as the Enterprise Zone at Alconbury.  
Coventry and Warwickshire: want to use a City Deal to capitalise on existing strengths in advanced manufacturing and engineering and to support the expansion of this sector. Coventry and Warwickshire want to grow these sectors by raising the skill levels of the workforce by increasing the number of people with intermediate and high level engineering skills and encouraging greater innovation in the sector. 
Hull and the Humber: wants to use a City Deal to maximise the potential of the Humber Estuary. The estuary is already a home to a chemicals and processing sector worth £6bn and has the highest tonnage throughput of any UK port.  Humber now wants to grow the "Energy Estuary" by maximising these opportunities and the benefits of offshore wind investment - and to ensure that local people have the necessary skills to take up these opportunities. 
Ipswich: want to use a City Deal to equip local people and businesses with the skills they need to take advantage of significant expansion in high value jobs through development of Sizewell and Felixstowe.
Leicester and Leicestershire: want to use a City Deal to accelerate the growth of key sectors in the economy (notably manufacturing and logistics) and to encourage greater commercialisation of research emanating from the three universities in the area (Loughborough, Leicester and De Montfort). 
Milton Keynes and the South East Midlands: want to use a City Deal to deliver significant, sustainable growth in housing.   Over the longer term, this will allow the local area, and South East Midlands, to attract and find homes for high-skilled workers to drive economic growth.  In the shorter term, providing confidence to private sector developers will create jobs in construction and industry supply chains. 
Greater Norwich: wants to use a City Deal to accelerate the growth of the internationally-recognised environmental and life sciences industry within the Greater Norwich area by focusing on the potential of Norwich Research Park. 
Oxford and Oxfordshire: want to use a City Deal to accelerate the growth of the knowledge economy by building on the strong base (including significant clusters in bio-sciences, space technology and cryogenics), two world-class universities (Oxford and Oxford Brookes) and  internationally-recognised 'Big Science' research centres (eg Culham Research Centre and Harwell Laboratories).  
Plymouth: wants to use a City Deal to build on its strengths in advanced engineering and design, marine renewable energy, maritime and sub-sea operations and supporting technologies.  It seeks to do this by increasing the commercialisation of research in these areas and increasing exports from its high growth companies. 
Preston:  has seen significant private sector growth in the last 10 years, largely driven by growth in small and medium sized businesses.  Preston want to build on this and sustain further growth, particularly in the aerospace and advanced manufacturing sector by investing in infrastructure. 
Reading and Central Berkshire: want to use a City Deal to ensure that local people have the skills they need to access local job opportunities.  Reading wants to focus on ensuring that people have skills in the growing sectors (particularly construction, logistics and knowledge intensive areas) and to ensure school leavers have the soft "employability" skills businesses need. 
Southend and South Essex: want to use a City Deal to increase investor confidence to increase the supply of good quality office space and housing which will accelerate business expansion. 
Stoke and Staffordshire: want to use a City Deal to build on strong heritage to become the internationally competitive home for Advanced Materials businesses in Europe.  They want to grow the advanced materials (metals, ceramics, polymers, etc.) sector and to promote the use in advanced manufacturing.  
Southampton and Portsmouth: wants to use a City Deal to drive the growth and diversification of the maritime sector in the area. They are seeking to do this by supporting growth in the associated sub-sectors of transport and logistics, defence and advanced manufacturing, the visitor economy and the complex supply chains linked to research and innovation. 
Sunderland and the North East: want to use a City Deal to expand their manufacturing base and to diversify and grow the city's economy. 
Swindon and Wiltshire: want to use a City Deal to capitalise on the strong military presence in the area.  They seek to do this by increasing the number of spin-offs firms from developments in military technology and to harness the skills from ex-servicemen/women. 
Tees Valley: wants to use a City Deal to establish a global super cluster of petrochemical and processing industries  to compete on the world stage. They want to build on Tees Valley's current industrial complex, which includes over 50% of the country's petrochemical and a significant percentage of the pharmaceutical sectors.  Such a super cluster would have at its heart the production of cleaner energy, containing new developing, and associated, sectors such as biofuels from waste and other forms of renewable energy such as offshore wind.  
Published 19 February 2013