Deputy Prime Minister launches Inspiring The Future
Nick Clegg launches a new scheme to send an army of volunteers into state schools to give inspirational talks about their careers.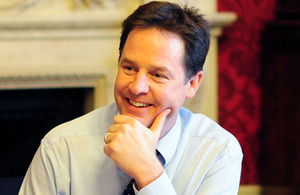 The Deputy Prime Minister will be joined by an array of famous faces and people with interesting jobs who are backing the plan, including entrepreneur Karren Brady, actor Joanna Lumley, Glamour magazine editor Jo Elvin, radio presenter Margherita Taylor and head chef at The Ivy restaurant Gary Lee.
 
Everyone remembers the person who inspired them to follow their chosen career, but independent schools have much stronger links with businesses than schools in the state sector. Research published today by the Education and Employers Taskforce, an independent charity, shows that 80 per cent of independent schools regularly bring external speakers into their schools to boost the career aspirations of their students. 85 per cent involve employers in giving careers advice to students, through Careers Fairs or regular careers talks. Many state schools lack the alumni links to give their students the same opportunities. The 'Inspiring the Future' initiative, run by the Education and Employers Taskforce, will play a key role in plugging this gap by connecting inspiring speakers with local schools.
Deputy Prime Minister, Nick Clegg said:
Too many young people get the message that the best jobs are not for them.
Inspiring the Future will give state school students the chance to see, hear and make a connection with someone in a career or job they might not have thought about.
Today we're calling on doctors, nurses, lawyers, builders, business people, civil servants, farmers, mechanics, engineers and other working people to give up just an hour of their time to talk to students in their local state school about how they got where they are today.  The power of making connections that inspire young people is immeasurable and can be life-changing.
Many successful people can point to a moment in their lives when they were inspired to become the people they are today. Now it's their turn to help young people fulfil their potential.
The Education and Employers Taskforce aims to recruit an 'aspiration army' of 100,000 volunteers. This would allow every state school in the country to access a pool of speakers from a range of sectors and backgrounds, reaching one million young people across the UK by 2014. The initiative is being supported by the Deputy Prime Minister as part of his focus on social mobility, to ensure that the school system as a whole promotes fairness and mobility, rather than closing down opportunities.
Evidence from Education and Employers Taskforce research shows that young people who have contact with employers at school, such as workshops and career talks, on average go on to earn 16 per cent more than their peers who had no such visits. The Inspiring the Future scheme is simple but reaps massive benefits for students:
Anybody who works can sign up via the inspiringthefuture.org website
Companies can also sign up so they can organise teams of staff to volunteer
Schools create a profile - a bit like a facebook page or dating site - of what they're looking for, such as a need for people to talk to pupils about a career in medicine.
The Inspiring the Future team then match-make the volunteers to the schools.
Volunteers then go into the school and spend about an hour running a workshop with around thirty pupils.
Nearly a third of all state schools have already logged on to the Inspiring the Future website to request a talk from a local volunteer. Like Facebook, which launched as a network for students at one university and now connects 900 million users across the world, it is hoped the Inspiring the Future network will expand rapidly. Employees are being asked to register their interest on the Inspiring the Future website which will then match them with a school. Volunteers will be invited to do a short talk at the school at a mutually convenient time.
 
The initiative is supported by key industry bodies including the CBI and the Association of School and College Leaders.
 
Sir Roger Carr, CBI President and Chairman of Centrica, said:
There is nothing more compelling for young people thinking about their future careers than meeting and speaking to inspirational people who do the jobs they are considering. That is why the CBI is pleased to support Inspiring the Future.
We desperately need to tackle the corrosive effects of high youth unemployment in the UK, so I would urge employers to sign up to this initiative and encourage their staff to get involved and provide valuable insights into their careers.
Brian Lightman, president of the Association of School and College Leaders which represents 17,000 school leaders said:
ASCL is delighted to be associated with the launch of Inspiring the Future. The world of work offers a bewildering range of opportunities for young people. It is immensely important that they have the chance to gain insights early on about different jobs and careers, especially when they cover areas outside their immediate experience. Employers often say that young people do not come to them with appropriate skills, and this project provides an ideal opportunity to talk directly to young people about what is required to succeed in the workplace. Having seen the benefits of this approach first hand as a head teacher, I am grateful to the many employers who have willingly volunteered their time and I am confident it will be hugely beneficial to the young people involved.
The Inspiring the Future launch will take place at Bishop Challoner School in Tower Hamlets where students will have the opportunity to attend workshops with leaders and apprentices from the worlds of business, the law, catering, medicine, science, the media and many others. Nearly 100 employers including Aston Martin, BBC, BSkyB, Caterpillar, Deloitte, Freshfields, The Prince's Trust, 02 and Virgin will stage a massive careers fair to be attended by 1000 students. Employees from these businesses and organisations will volunteer in local schools over the coming months.
To volunteer log on to www.inspiringthefuture.org.
Today people will be tweeting about who inspired them to follow their chosen career. Join the conversation at #whoinspiredyou
Notes to editors
1. Although only 7 per cent of the population attend independent schools, well over half of top level professionals have done so. 24 per cent of Vice Chancellors, 32 per cent of MPs, 51 per cent of top medics, 54 per cent of top journalists, 54 per cent of FTSE 100 CEOs, 68 per cent of top barristers and 70 per cent of high court judges went to independent schools.
2. BBC Science Presenter Greg Foot said:
I wish I had something like this when I was at school! Getting an insight into different careers from professionals in the game right now is invaluable. Inspiring the Future is a great way to get pupils engaged in thinking about a whole host of career options they might never have consider, and inspire them to follow what they enjoy now into a job they'll enjoy in the future.
Law Society President-elect Lucy Scott-Moncrieff said:
I am pleased to be involved in promoting a wider range of career options to young people. A career in law can be very rewarding, providing many exciting challenges and opportunities. There are many different entry routes into the legal profession, and what matters more and more is talent and commitment, not class or family background. Just as law and justice serve the whole of society, the profession needs people from all walks of life.
Dr Deirdre Hughes OBE, Chair of the National Careers Council and UK Commissioner for Employment & Skills said:
Inspiring the Future is a unique and innovative approach that connects young people to the world of work. It brings alive the reality of people's working lives and the differing pathways to success. The initiative encourages young people, teachers and employers to learn from one another and, most importantly, to network and to find out more about career resilience and adaptability in a rapidly changing economy.
3. Almost 600 civil servants have signed up for the initiative.
4. For more information about The Education and Employers Taskforce visit www.educationandemployers.org.
Published 2 July 2012