Deputy Prime Minister joins the Holocaust Educational Trust on their 100th visit to Auschwitz
Nick Clegg will join 200 post-16 students on a journey to Auschwitz-Birkenau marking the 100th visit to the site by UK students.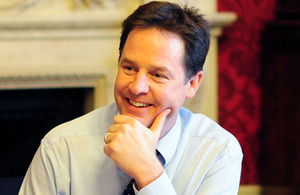 The Deputy Prime Minister will travel with students as part of the Holocaust Educational Trust's 'Lessons from Auschwitz Project' which gives 3,000 students from across the UK the opportunity to visit the Nazi concentration and death Camps in Poland each year.
Launching in 1999, over 18,000 students have seen Auschwitz-Birkenau first hand, deepening their understanding of the Holocaust, its contemporary lessons and where hatred and prejudice can lead if left unchecked.
The one day visit to Auschwitz-Birkenau is part of a range of activities undertaken by the nominated students. Young people take part in seminars before and after their visits to discuss their personal responses and how they will act as ambassadors, passing on the lessons to others in their schools and communities. Past participants have gone on to organise anti-racism conferences, create public exhibitions, write articles for local media and lead school assemblies.
In preparation for the visit, today's students took part in an orientation seminar where they heard testimony from Holocaust survivor Kitty Hart-Moxon.
Speaking ahead of the visit, Nick Clegg, Deputy Prime Minister said:
The Holocaust Educational Trust's 'Lessons from Auschwitz' project gives young people an invaluable opportunity to see first hand, the horror of where prejudice can lead.

I'm honoured to have the opportunity to take part in the 100th visit and to share such an important experience with the students.

The key to the project's success is the emphasis given to supporting students to take the lessons home and become ambassadors against racism, hatred and prejudice in all its forms in their own communities.
Karen Pollock MBE, Chief Executive of the Holocaust Educational Trust, said:
We are delighted that the Deputy Prime Minister is able to join students on the occasion of our 100th Lessons from Auschwitz course and witness the profound effect visiting Auschwitz-Birkenau will have on them. The Government's ongoing support for Holocaust education has been essential to enable over 18,000 young people to benefit from this important project.
For further information about the Holocaust Educational Trust.
For more information about the Lessons from Auschwitz Project.
Published 18 October 2012