Deputy Prime Minister: information is power in nuclear threat
The UK is taking decisive action to tackle the threat of nuclear terrorism, Deputy Prime Minister Nick Clegg said today.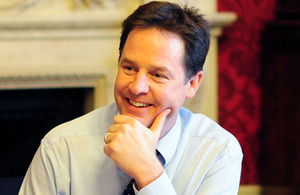 At the end of the second global Nuclear Security Summit in Seoul, he also revealed the UK's capability in detecting, diagnosing, and rendering safe an improvised nuclear device. Publicising this level of detail is a major step forward in sharing information with other nations, deterring terrorists and reassuring the public.
The Deputy Prime Minister announced previously classified information that the UK has been protecting its borders since 2001 with hi-tech equipment to detect illicit trafficking into the UK of radiological and nuclear material, and that we have for some time had specialist teams ready to deploy, detect and make defuse a terrorist nuclear device. 
Mr Clegg also announced that the UK will build on its already world-class capabilities by opening a new nuclear forensics laboratory. One of only a handful in the world, the facility will allow police and criminal justice agencies to properly investigate crimes involving nuclear and radioactive materials for the very first time.
The Deputy Prime Minister, representing the UK at the Summit in Seoul alongside leaders from 52 other countries, also underlined the vital role of information security around nuclear issues. Mr Clegg stressed the need to focus on protecting not just nuclear material but also the information that a terrorist would need to acquire material, build a bomb, and mount an attack. This information ranges from maps of nuclear sites, how to improvise a device and how to beat border security and emergency response plans.
Speaking from Seoul, the Deputy Prime Minister said: 
Nuclear terrorism is a very real and global threat. Dangerous material must never be allowed to fall into the hands of terrorists - a successful attack would have catastrophic human and environmental consequences.

In Seoul we have built on President Obama's groundbreaking 2010 Washington summit and his campaign to 'lock down nuclear material' over 4 years. In nuclear issues, information is power and that power in the wrong hands can be used to horrifying effect.  That's why the UK has been leading the way on the security of nuclear information. 

The importance of nuclear information security cannot be underestimated. We must take every step to ensure that the details of how to obtain nuclear material, build a bomb and mount an attack never fall into the hands of terrorists.

We have been using cutting edge technology for over a decade to guard our borders against a nuclear terrorist threat. It is time to share that information so we can all raise our game. Our groundbreaking new forensics lab will further enhance our ability to deal with nuclear and radioactive crimes and mean terrorists have no place to hide.

The summit backed the UK's calls to take information security more seriously, and thirty countries have committed to taking tough action to protect vital information. This means thirty countries will ensure that sensitive documents are securely handled, staff on nuclear sites are properly vetted and awareness is increased among scientists of the crucial role they have in stopping technology falling into the wrong hands.
At the summit, the Deputy Prime Minister also announced significant UK achievements against our commitments from the last summit and our new pledges for 2012 and beyond, including:
The UK's rolling Global Threat Reduction Programme, worth some £17m this year, is funding security upgrades and capacity-building projects overseas, including helping to secure nuclear materials in the former Soviet Union (not least, 775 bombs' worth in Kazakhstan).  
In Russia and other former Soviet countries, we are on track to help create new jobs for 3,000 former weapons scientists by the end of 2012. 
In October last year an IAEA team visited our key civil nuclear sites at Sellafield and Barrow port, in Cumbria. We were the first nuclear weapons state to host such a visit.  The team looked at our nuclear governance structures and our security measures, and commended many examples of good security practice. They also made valuable recommendations, which we're learning from.
The UK has been working with industry bodies too, to help develop and spread the best possible security culture among personnel at home and overseas. 
Notes to editors
The thirty countries signing the UK's multinational statement on information security are:
Algeria, Australia, Canada, Chile, Czech Republic, Finland, France, Georgia, Germany, Hungary, Indonesia, Italy, Japan, Kazakhstan, Malaysia, Mexico, Netherlands, New Zealand, Norway, Philippines, Poland, Republic of Korea, Spain, Sweden, Switzerland, Thailand, Turkey, United Arab Emirates, United Kingdom, United States of America, Vietnam.
The new information about the UK's capability in detecting, diagnosing, and rendering safe an improvised nuclear device was announced at the summit together with the United States and France and also by Written Ministerial Statement from the Ministry of Defence. For further media enquiries contact the Ministry of Defence press office.
Published 27 March 2012