Deputy Prime Minister hails big step towards ending 'who you know, not what you know' culture
More than 100 of the biggest hitters in British business have signed the government's Business Compact.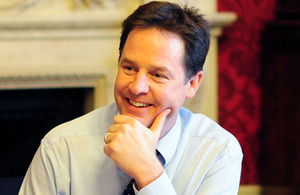 More than 100 of the biggest hitters in British business have signed the government's Business Compact and are opening their doors to people from all walks of life, ending the 'who you know, not what you know' culture, the Deputy Prime Minister will announce today.
The businesses - employing over two million people in Britain with a turnover of more than £500 billion - have signed up to the Deputy Prime Minister's Business Compact on social mobility. This is an unprecedented partnership between business and government to spread opportunities across our society and, crucially, to create culture change in other companies.
Signatories to the Compact include:
nearly 20 major finance firms including Barclays, HSBC and Santander
more than 10 high street retailers including Asda, Tesco, Sainsbury's, Marks & Spencer, and Morrisons
11 well-known consumer brand manufacturers including Coca Cola, P&G  and Nestle
10 major law firms including Allen and Overy and CMS Cameron McKenna
eight high profile energy firms including BP, Shell and E.ON.
Deputy Prime Minister, Nick Clegg, said:
This is an important step towards a society where it's what you know, not who you know, that counts.  Working with the Coalition, the biggest hitters in British business are helping lead the way to a fairer, more open society.
By opening their doors to young people from all walks of life, this marks the start of a culture shift among major employers, driven by the belief that ability and drive should trump connections and privilege.
I'd like to thank the companies and organisations who have already signed up to the Business Compact. Today's success makes me even more ambitious. This great news is just the beginning - I will be doing everything I can to bring even more businesses on board.
Today the Deputy Prime Minister will also write to a further 50 of the biggest companies in the UK asking them to sign up.
The Business Compact forms a key part of the Deputy Prime Minister's Social Mobility Strategy, launched in April 2011, which sets out the Government's determination to ensure every individual is free to achieve, regardless of the circumstances of their birth. Businesses and organisations which sign up to the Compact must agree to:
support communities and schools to raise aspirations through, for example, reading and mentoring schemes or encouraging their staff to go out to schools and inspire pupils about their careers.
open opportunities to all young people by advertising their work experience places through schools, online and in other public forums, rather than just giving places to informal contacts.
make access to internships open and transparent, with financial support such as providing expenses or accommodation, or by treating the internship as a job that can be paid under National Minimum Wage law.
recruit fairly and without discrimination, using application forms that don't allow candidates to be screened out because they went to the wrong school or come from a different ethnic group (including through using name-blank and school-blank applications where appropriate).
The Deputy Prime Minister will be holding a reception tonight to thank all of the businesses who have signed up to the Business Compact.
Notes to editors
1. For media enquiries please contact Katherine Pateman on 020 7276 0516/07584 886342 or Peter Graham on 020 7276 2546/07584 886 357.
2. Statistics show access to the professions is still all too often restricted to those from affluent backgrounds:
Only a quarter of boys from working class backgrounds get professional or managerial jobs
Only 7 per cent of the population attend independent schools, but the privately educated account for over half of the top level of many professions, including 70 per cent of high court judges and 54 per cent of FTSE 100 CEOs.
A high proportion of those in professions come from far wealthier backgrounds than the average person - for example, doctors and lawyers typically come from families with average incomes over 60 per cent higher than the population average.
3. Find further detail on the Business Compact here.
4. Opening Doors, Breaking Barriers: A Strategy for Social Mobility was published in April last year. The strategy made a number of commitments to take action to improve social mobility across the life cycle, from the early years, through school and the education system and into the labour market.
Since the strategy was launched much progress has been made, including:
In the Foundation Years:
the Government published Families in the Foundation Years and Supporting Families in the Foundation Years last summer setting out the Government's policy vision for the services that should be offered to all families and parents from pregnancy to age five, responding to the Allen, Field and Tickell reviews and it will be implemented.
the Early Intervention Grant was formally introduced in April 2011 and expansion of the Family Nurse Partnership programme and roll-out of the new entitlement to 15 hours per week of free early education for two year olds continues
In the School Years:
the Pupil Premium has been introduced and the amount for next year will increase to £600 per pupil, providing additional funding for the most disadvantaged children to help raise their attainment
the first Free Schools are now open
The Deputy Prime Minister launched Speakers for Schools, and the related programme Inspiring the Future, which aims to get 100,000 people into schools and colleges to talk about their job and career routes, has been launched
The National Citizenship Service was piloted last summer and will be rolled out this year
In the Transition Years:
the Government has accepted all the recommendations of the Wolf Review of vocational education
The National Scholarship Programme has been launched
The Higher Education White Paper was published last summer
The Participation Strategy was published at the end of last year.
In Adulthood:
The Whitehall Internship Scheme was piloted last summer
The Housing Strategy was published in Autumn last year
The Government launched the Youth Contract at the beginning of this month which will tackle youth unemployment through a combination of targeted wage subsidies and work experience placements
The social mobility indicators committed to in the strategy are included in Business Plans.
5. The following businesses and organisations have signed up to the Compact:
A4E
Accenture
ACCA
Addleshaw Goddard LLP
Adecco Group UK & Ireland
Airbus
Allen and Overy
Alliance Boots
Anchor Trust
Arriva
Asda
Ashurst LLP
Associated Newspapers
Association of Accounting Technicians
Atkins
Aviva plc
AXA
BAE Systems
Baker & McKenzie LLP
Bar Council
Barcelo Hotels UK
Barclays
Bauer Media Group
BP
BT Group
Cancer Research UK
Carillion
Centrica
Channel 4
Chartered Institute of Personnel and Development (CIPD)
Citi
CMS Cameron McKenna LLP
Coca Cola Enterprises
Coca Cola Great Britain
Compass Group
Credit Suisse
Deutsche Bank
E.ON UK
Ernst & Young
Evening Press Corporation
Eversheds
Everything Everywhere (Orange/T-Mobile)
Experian
Fujitsu
G4S UK
GE
Greggs
GSK
Guardian News & Media
Hewlett Packard
Hilton Worldwide
Hogan Lovells
House of Fraser
HSBC
IBM
Institute of Chartered Accountants in England and Wales (ICAEW)
Institute of Healthcare Management
Irwin Mitchell
Jaguar Landrover
J.P. Morgan
Jurys Inn Hotels
Kempt
KPMG
Legal Services Board
Liberal  Democrats Headquarters
Loreal (UK)
Marks & Spencer
McDonalds
McGinley Support Services
Mears Group
Media Trust
Microsoft
MITIE Group PLC
Morrisons
Mothercare/Early Learning Centre
National Grid
Nationwide Building Society
Nestle UK & Ireland
NHS Employers
Norton Rose
O2
Pertemps
Public Relations Consultants Association (PRCA)
P&G
Prudential UK & Europe
PWC
Radio Independents Group
Red Consultancy
Research In Motion (Blackberry)
Royal Academy of Engineering
Royal Institute of British Architects
Royal Institution of Chartered Surveyors
RBS
RWE Npower
Sainsbury's
Santander UK
Serco
Shell
Siemens
Simmons & Simmons LLP
Sony
Starbucks
Tata Consultancy Services
Tata Global Beverages
Tata Steel
Teach First
Teleperformance
Tesco
The Co-operative Group
University Partnerships Programme (UPP)
Vodafone
Watershed PR
Wates Group
WPP
Published 12 January 2012