Deputy Prime Minister gives speech on foreign policy
Deputy Prime Minister Nick Clegg described new "axis of openness" in global affairs in speech at Chapultepec Castle in Mexico City.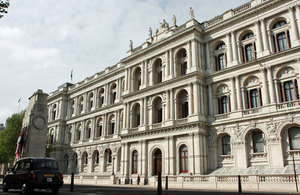 He said:
"Just as 1989 and 2001 marked sharp breaks with the past, so 2011 could prove to be a turning point in international affairs: the third critical moment in recent history.
"Many of the received wisdoms of the last decade have tumbled like dominoes. Against the predictions of most of the experts in foreign ministries around the world, the last nine months have seen a rising tide of democracy and openness, and a resuscitation of the ideals of multilateralism:
"There has been real progress on climate change here in Mexico, at the Cancun Summit last year. I'd like to congratulate the Mexican government and the Mexican people for helping make the Cancun Summit such a success.
"The rising democratic tide in North Africa and the Middle East, led by middle-class secular forces, with a movement for openness in societies across the region.
"A swift and decisive response by the United Nations to the dangers posed to those fighting for freedom in Libya. A response strongly supported by many emerging economies and with a significant and encouraging new role played by China, Russia and Brazil.
"And the reaction of the world to the tragedy in Japan. It has long been a cliche to say that the world is becoming smaller. But I believe that in terms of compassion and ethics, the case is now proven beyond doubt. When citizens in war-torn Afghanistan are sending money to Japan, it is possible see ourselves as citizens not only of our own nations, but also of that wider country, the world."
Speaking on the day of the Libya Conference in London, he added:
"There is a good deal of concern in the UK, and I know here in Mexico too, about the military action. The sight of coalition warplanes in action in North Africa is a stark reminder of earlier conflicts.
"Like most of you, I was a strong opponent of the war in Iraq. It was wrong. But the action being taken in Libya today is right. It would be a terrible tragedy if the mistakes of Iraq led to a retreat from the principle of liberal interventionism, from the principle that we have a collective responsibility to support freedom and protect human rights around the world.
"The lesson of Iraq is not that intervention in support of liberal aims is always wrong. The lesson of Iraq is that any such action must only - and must always - be multilaterally sanctioned and driven by humanitarian concerns.
"Liberal vigilantism is dead. Law-abiding liberal interventionism is not."
Published 29 March 2011