Deputy Prime Minister encourages parents in Oxfordshire to take up offer of free childcare for two-year-olds
Deputy Prime Minister Nick Clegg today encouraged parents of toddlers in Oxfordshire to check if they can get free childcare.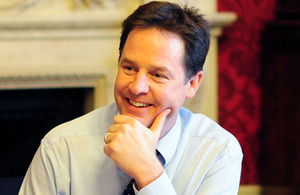 From this September, 15 hours of free childcare a week will be made available to more than 1,100 two-year-olds across the county from lower income backgrounds. The first of these eligible toddlers will have their second birthdays this month.
The Deputy Prime Minister today visited a nursery in Oxfordshire, where he met with parents, staff and children.
Nick Clegg, Deputy Prime Minister, said: 
High quality early learning can make a huge difference to children at the start of their lives. By getting things right from the off, they are much more likely to be ready when they start school.

I want to make sure no child in Oxfordshire loses out, which is why more than a thousand two-year-olds in the country will be eligible for free childcare starting this September.

I'm determined to help parents with young children and this is just a part of a wide range of measures, including £1,200 of free childcare every year for under 12s and allowing parents to share maternity leave for the first time.
Parents can find out if their two-year-old is eligible by contacting either their local nursery provider or their local authority. Places will initially be targeted on children from families receiving an out-of-work benefit and those who are looked after by their local authority.
Children from disadvantaged backgrounds are known to be more at risk of poor development, with evidence showing that differences emerge early on in life. High quality early education can make a difference to a child's progress and the additional Government money will help to make sure children from poorer families do not lose out.
Currently, more than 850,000 three and four year olds nationally access up to 15 hours of free early education every week - one of several measures the Government is taking to support parents with children in childcare. Last month, the Deputy Prime Minister and Prime Minister announced that working families will receive up to £1,200 per child to help with the cost of childcare from 2015.
This followed an announcement by the Deputy Prime Minister that in two years parents will be entitled to share 'maternity' leave for the first ever time, with parents' right to request flexible working from their employers also to be extended. Both measures are aimed at helping parents, particularly working mums, combine work and parenting after having children.
Notes to editors
From September 2014, the number of two-year-olds eligible for free childcare will double to 2,300.

Children from families receiving one of the following meet the criteria for free childcare from September:
Income Support
Income-based Job Seekers' Allowance
Income-related Employment and Support Allowance
Support under Part VI of the Immigration and Asylum Act 1999
the Guaranteed element of State Pension Credit
If you have an annual income of less than £16,190 and get Child Tax Credit, provided you are not also entitled to Working Tax Credit.
Published 12 April 2013