Deputy Prime Minister calls on England's cities to help rebalance the economy
Nick Clegg has called on England's cities to help rebalance the economy and ensure the country's economic recovery and growth.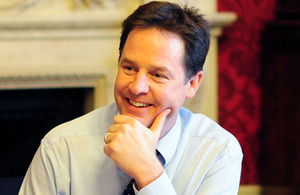 In a speech at the Core Cities Conference in Sheffield, the Deputy Prime Minister said how the Localism Bill will decentralise power from Whitehall and give councils and businesses more economic freedom.
Mr Clegg said the Local Enterprise Partnerships will ensure local businesses and communities have a say in deciding their area's economic priorities.
The Deputy Prime Minister also talked about the new Technology and Innovation Centres that will support cities and regions to become, or remain, among the world's best in areas such as manufacturing.
Nick Clegg said:
We need growth that lasts - rebalancing our economy, making the most of all our businesses and our industries, and turning a page on the overreliance on wheeling and dealing in the City of London.
The Deputy Prime Minister added:
I hope we can lift our sights beyond the immediate challenges, beyond the fiscal crisis, to the bigger question: how do we rebuild our economy, our country, to make our cities the powerhouses we all need you to be?
Published 14 January 2011