News story
Deputy Prime Minister attends 20th British Irish Council Summit
The Deputy Prime Minister attended the 20th British Irish Council Summit meeting in Derry-Londonderry on 21 June 2013.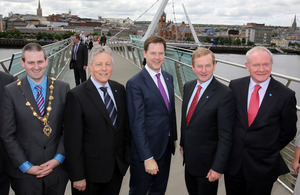 Leaders and ministers from the eight BIC Member Administrations attended the summit: the UK and Irish governments, the devolved administrations of the Scottish and Welsh governments and Northern Ireland executive, the Isle of Man government and the governments of Jersey and Guernsey.
Held at Magee College in Derry-Londonderry, which is currently the UK City of Culture, the Council discussed a range of issues including the current economic situation and youth unemployment.
On his visit the Deputy Prime Minister also crossed the Peace Bridge connecting the Waterside and Cityside parts of the city, with Northern Ireland First Minister Peter Robinson and the deputy First Minister Martin McGuinness. Following that, the Deputy Prime Minister visited the Oakgrove integrated primary school where he spoke to pupils and teachers.
Today, the Deputy Prime Minister announced that the government will extend the successful Start-Up Loans for young entrepreneurs to Northern Ireland. Since it started in England in autumn 2012, the Start Up Loans scheme has already committed over £26 million in loans and £4 million in support to help over 5,000 people aged 18 to 30 set up businesses, almost half of whom were previously unemployed.
The Deputy Prime Minister said:
Start-Up Loans have proven to be a great success in England and we want young people in Northern Ireland to also be able to use the scheme to turn their enterprising ideas into live businesses. Nothing better exemplifies how the United Kingdom can use the best resource at our disposal – our people.
Following the enormously successful G8 summit in Lough Erne, I am very much looking forward to the British-Irish Council, where we will be discussing other ways in which all of us across the UK can work together to create a stronger economy in a fair society.
Published 21 June 2013