News story
Deputy Prime Minister - £1 billion boost to Regional Growth Fund
Deputy Prime Minister Nick Clegg will visit the North West today where he will set out further details on the boost to fund, which will now …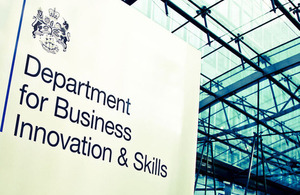 Deputy Prime Minister Nick Clegg will visit the North West today where he will set out further details on the boost to fund, which will now be £2.4billion in total. He will announce that there will be at least two further rounds of bidding, with the next round opening during February 2012.
He will also confirm:
the focus of the fund will remain on creating jobs, encouraging private investment and supporting areas dependent on the public sector

cities will be encouraged as part of future bidding rounds to come forward with innovative programmes and packages of projects, building upon successful approaches adopted in previous rounds

Lord Heseltine and Sir Ian Wrigglesworth will remain as Chair and Deputy Chair of the Independent Advisory Panel.
Deputy Prime Minister, Nick Clegg said:
"This additional billion pound boost for British businesses means the Regional Growth Fund will create an estimated half a million jobs before the end of this parliament.
"With this targeted support for companies we're unlocking private sector investment, with at least £5 put in for every £1 of public money.
"The first pots of Regional Growth Funding money are already jump starting growth and creating jobs across the country - helping to rebalance our economy so that every region and sector benefits."
Business Secretary Vince Cable said:
"This fund is helping businesses across the country to create jobs - giving them the support they need to turn new ideas into actions that will drive their growth and future success.
"The Regional Growth Fund is already having an impact, with more than 50 per cent of the projects from the first round already up and running. The extra £1 billion we are investing will enable us to build on this success and deliver a shot in the arm to local economies."
The Regional Growth Fund was launched in October 2010. So far it has allocated £1.4 billion through two bidding rounds. There were 50 successful projects in the first round sharing £450 million. More than 50 per cent of the projects from the first round are already up and running.
In the second round, 119 bids received conditional allocations of funding, with a further 10 requiring further discussion. Of these 10, seven have funding conditionally allocated to them, increasing the number of bids receiving a share of £950 million to 126, and the total of new and existing jobs supported to 244,000. Of the 244,000 jobs created or protected, around 38,000 will be directly created jobs, and more than 170,000 will be in the supply chain.
The seven additional bids are:
o Avanti Goonhilly Development Programme (Cornwall) -creating a major satellite teleport at Goonhilly and improvements to Avanti's existing facility to enable the delivery of satellite services to consumers and customers across the world.
o Goonhilly Space Science Park (Cornwall) - a project to transform the former BT Goonhilly Satellite Earth Station on the Lizard peninsular, Cornwall, into a space science park.
o Tees Valley Waste Management Plant (Tees Valley) - Construction of a new Waste Management Plant with a capacity of 50,000 tonnes per annum to treat waste streams throughout the Tees Valley. The plant will process waste from both municipal and commercial sources with an aim to reduce the levels of waste diverted to landfill.
o BF Biogas Limited - part of the Earth Energy group (Teesside) - project is to build an anaerobic digestion manufacturing plant in Teesside, in order to process waste streams such as food and garden waste, animal waste, and slurry and convert these into biogas which can be used for power generation.
o Neptune Energy Park (River Tyne) - project to support brownfield remediation and infrastructure development works and factory construction on part of the former Neptune Ship Yard on the River Tyne.
o Newcastle - Central Gateway (Newcastle) - improving access to key development sites in central Newcastle. In particular, it looks to address physical barriers that would unlock development in Newcastle's Stephenson Quarter.
o The Enterprise Agency Consortium -** Let's Talk Business (North East)** Six of the country's leading enterprise agencies have combined with The National Enterprise Network to produce a national business start-up programme, designed by specialists and delivered by social enterprises. They will provide support and assistance in all of the elements required to start up a successful enterprise.
Notes to editors:
The next round will open in February, with the first successful bids likely to start receiving awards in spring 2012. Further details about upcoming bidding rounds, including timings, funding allocations and application forms will be available in due course.

The beneficiaries from round one who have received their funding are:
Plymouth Aspire Fund (Cornwall & the Isles of Scilly, Devon and Somerset) Creation of a fund offering grants (between £10,000 and £100,000) to small businesses in the South West. The University of Plymouth will also provide mentoring and coaching to recipient companies. The fund will support businesses that have been unsuccessful in securing funding from other sources. The fund will target SMEs operating in clean technology, biotechnology and medical, creative and advanced engineering industries.
Liverpool Aspire A project to stimulate SME growth through media advocacy. The Liverpool Echo will undertake an 18 month campaign in which it will run competitions to provide grants of between £10,000 and £100,000 to SMEs to support expansion, increased sales or diversification into a new market together; with mentoring and coaching to optimise the potential of the businesses in receipt of a grant. The scheme will also create favourable publicity for the SMEs involved.
Proctor & Gamble (Newcastle upon Tyne) Project aims to create a North East based consortium with unique global capabilities in the scientific area of surface modification techniques and build expertise on high throughput methods and cleaning technologies. Initial project is to improve household cleaning products.
David Brown Gear Systems (Huddersfield) The project will create a R&D Innovation Centre under the new David Brown (DB) brand of 'Windserve', to offer solutions (intellectual property) for improved gearbox reliability and durability in wind turbines. Windserve offers gearbox after market services. The direct market offer will be to Original Equipment Manufacturers (OEM's) and windfarm owners to extend the working life of their gearboxes. RGF Grant contributing to the significant upfront capital costs of the centre construction and the purchase of the test rig (used to test gearbox performance).
Middleport Potteries (Stoke on Trent) Project to acquire and refurbish a grade 2* listed building in Stoke-on-Trent. Project proposed by a Prince's Regeneration Trust subsidiary on a not-for-profit basis; refurbished space will be re-let in part to existing owners Denby Potteries, with the remainder providing speculative artisan workshop and start-up space and visitor facilities.
Molecular Profiles (Nottingham) Expansion of existing facility to an adjacent site in Nottingham thereby expanding on current services offered. The company undertakes specialist contract research in pharmaceutical formulation and small scale manufacture for pharmaceutical and biotech companies. RGF will be used for partially purchasing the land, construction and fitting out of the new laboratory, as well as the purchase of new equipment.
Chirton Engineering Package (various locations in North East) The project comprises a series of eight linked applications from companies involved in the offshore energy for support in developing their industrial capacity in order to expand into new areas of work, ranging from the acquisition of new plant and machinery, marine lifts, product development activities and larger business premises.
The individual projects are as follows:
Alnmaritec new machinery and testing equipment for ContiTech Beattie, a fluid power equipment manufacturing, and installation of a marine travel lift (100 tonne capacity for small and medium size boats) for shipbuilder/repairer

Chirton Engineering purchase of lathe and milling machinery for servicing the offshore energy industry (Chirton Engineering),

Conitech Establishment of engineering machinery facility in Blyth,

Verta Energy development of a plant to produce oil from locally produced rapeseed

**Monitor Coating **Purchase of new production equipment/assets to enhance thermal spray and slurry coating services for the aerospace, industrial gas turbine and energy industries;

Red Marine renovation of offices and IT installation of new IT networks to promote product development in the offshore energy and renewable energy industries

Seward Electronic product development and expansion of in-house manufacturing capacity for producing instruments for the photo-voltaic (solar panel) installation industry;

Tharsus Engineering expanded business premises at Hebburn and new painting , fabricating, profiling, and bending capabilities for a welding and sheet metal working company which supplies various markets, including rapid charging points for electric vehicles
Carbon Trust Package (various locations) Package of 13 project activities led by the Carbon Trust with the aim of promoting a step change in the energy efficiency of industrial processes through innovation.
HSBC: Asset Assistance Scheme (National) The establishment of an assisted asset purchase scheme to enable additional funds to be made available to borrowers who would not ordinarily be eligible due to normal credit criteria. Grant provided to recipient either as a deposit or to assist repayments (to meet LTV or Credit & Risk assessment respectively). Individual grants below £100k with an average value of £50k.
RBS: SME investment aid scheme (National) The project will offer a blend of public and bank funding to SMEs to support investment that will stimulate economic growth and job creation. The proposed RGF funding would help address a funding gap where customers are deterred from borrowing due to the absence of a minimum customer contribution (typically in the form of retained earnings, raising shareholder equity or asset sales). The public funding will be made available to provide SMEs with funds to assist their commercial loan applications, by helping to provide a 'contribution' to loan applications which is normally required as part of standard credit policy.
Bridon International (Newcastle Upon Tyne) Project aims to establish a new portside location and installation of a rope closing machine in Newcastle-upon-Tyne allowing the manufacture of the world's longest multi-strand ropes capable of bearing extremely heavy loads.
Pilkington (Merseyside) Construction of a new off line sputter coater for Low-E sheet glass - a more efficient production technique to produce a product that can better compete in the European market.
Capital for Enterprise (Business Angels) (National) A fund to deliver risk capital investment with the private investors providing business advice and support as part of the investment package. Individual companies supported by the project will operate across a range of sectors.
Stobart/Prologis Logistics Hub (Halton, Cheshire) 3MG is a major rail linked logistics park currently under development at Ditton. When fully completed, 3MG will comprise around 325,000 sqm of rail served warehousing (distribution centres), a rail terminal and connections to the road network. The bid will support the expansion of the site through: (i) remediation of 100 acres of brown field land; and (ii) rail infrastructure to open up a green field site known as Halton Fields.
BIS's online newsroom contains the latest press notices, speeches, as well as video and images for download. It also features an up to date list of BIS press office contacts. See http://www.bis.gov.uk/newsroom for more information.
Notes to Editors
Contact Information
Name BIS Press Office Job Title
Division COI Phone
Fax
Mobile
Email NDS.BIS@coi.gsi.gov.uk
Name Joanna Fletcher Job Title
Division Department for Business, Innovation and Skills Phone 020 7215 5951 Fax
Mobile
Published 6 December 2011