Deputy Prime Minister highlights green deal at launch of low carbon business support project
Plans for a new Green Deal for households and businesses were outlined today by Deputy Prime Minister Nick Clegg.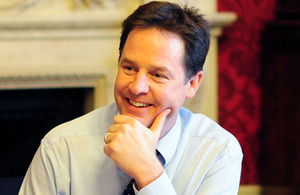 The Deputy Prime Minister spoke of the government's "quiet green revolution" to create jobs and protect the environment.
The Deputy PM was speaking at the launch of a new project to provide support for new and rapidly growing businesses in renewable energy and related low carbon markets. The project is being led by TEDCO, a successful Enterprise Agency based in South Tyneside. The project aims to support the creation of 1,000 new businesses and 10,000 new jobs.
The Green Deal will combine growth in the economy with a greener and more efficient way of using energy. It aims to reduce energy demand and carbon emissions while making homes warmer, saving consumers money and stimulating green recovery in jobs.
Addressing a business audience at the launch, the Deputy PM said:
It is fantastic to see you tapping into the potential here in the North East - a region I want to see firmly established as a hub of a new green economy. The work you are doing chimes very closely to this government's ambition to rebalance our economy as we pull our way out of the downturn - rebalancing growth away from the South East to the North, shifting from an overdependence on the public sector to a recovery led by the private sector, and moving away from carbon-blind economic activity to business with a new carbon conscience.

All politicians have warm words on the environment, and all governments talk about leading the shift to a new green economy. This government is going to do things differently. We won't try and dazzle you with green gimmicks. We want to impress you by quietly getting on with the job.

Today I want to focus on plans for a Green Deal to combine growth in the economy with a greener and more efficient way of using energy. Green Deal Finance will allow householders to make their homes more energy efficient, saving on their bills, without the need for them to provide up-front finance. Homes account for a quarter of all emissions in the UK, and this is no longer a problem we can ignore. With some of the oldest housing stock in Europe we also face a huge challenge.
Up to 14 million homes could benefit from the Green Deal through insulation. Payments will be collected through energy bills and the most energy inefficient homes could save, on average, around £550 a year.
The government will begin legislating for these proposals in the Autumn and they are expected to take effect in 2012.
The Deputy PM added:
We believe these proposals have the potential to unlock tens of billions of private sector spending in the coming years, and that means jobs.

I want the business and research communities that will benefit from these changes to have the confidence that they are coming. As those businesses take decisions about how they develop, I want them to be absolutely clear on our direction of travel.

This government's aim is to lead a quiet green revolution, not release more green hot air. We need a new kind of economy after the crisis of the old. This means more green jobs here in the North East, instead of an over reliance on financial services in the south. I believe we can create jobs and protect the planet at the same time.
CAB 145-10
Notes to editors
The Green Deal will allow householders to enjoy the benefits of efficiency measures and the energy bill savings they can bring, without the need for providing their own up-front finance. Green Deal customers will be entitled to an independent assessment of their home's energy efficiency, and improvements will be carried out by kite-marked installers. Detailed proposals will be laid out in a Bill in the autumn, and we expect this to be available from 2012.
The government also plans to create a Green Investment Bank to deliver financial interventions to deal with market failures specific to green investment, stimulating growth while supporting environmental objectives.
For more information on the Green Deal, please contact the Department of Energy and Climate Change press office on 0300 060 4000.
For more information about the Deputy Prime Minister's activities please contact Rae Stewart (020 7276 2546) or Katherine Pateman (020 7276 0516) in the Cabinet Office press office. For all Cabinet Office press office contact details, visit the press office page.
Published 19 August 2010