Deputy Prime Minister announces £7 billion 'fairness premium'
More than £7 billion will be provided to give the poorest children a better start in life, Deputy Prime Minister Nick Clegg has announced.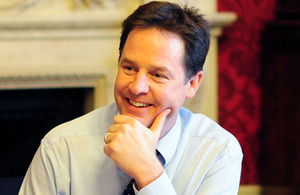 The 'fairness premium' will help children from disadvantaged backgrounds from the age of two to 20 to give them "an equal crack of the whip".
Read the Deputy PM's speech on fairness
Speaking before an audience of parents, teachers, charities and voluntary groups at a junior school in Chesterfield, Mr Clegg said the next generation must be sheltered from the legacy of the country's debt.
He added that although next week's Comprehensive Spending Review will cut spending, it would increase the Government's investment in fairness.
Mr Clegg said:
It is hard to think of how money could be better spent. Not only because we are helping those children who have least control over their own fortunes, but because the benefits will be felt across our society as a whole.

Imagine a classroom where no child is left behind. Better discipline. Better results. The whole class moving forward together. Imagine catching those children who are going off the rails when they are still young. Fewer troubled teenagers. Less crime. Less public money spent on damaged adults. You cannot overestimate the transformative nature of this kind of investment. Focus on these children and families across the country reap the rewards.
There will be three parts to the fairness premium, including a pledge to provide 15 hours a week of pre-school education to disadvantaged two-year-olds, in addition to that already available to them at the ages of three and four.
Schools will also receive additional funds to offer targeted help to pupils eligible for free school meals and help to access university will be given to teenagers from deprived backgrounds.
Published 15 October 2010