World news story
Deputy Head of Mission visits Southern Hungary
Theresa Bubbear visits Pécs and Versend in Southern Hungary for International Women's Day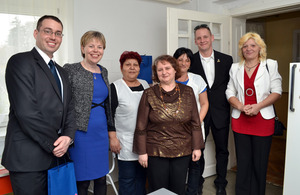 Deputy Head of Mission (DHM) at the British Embassy in Budapest, Theresa Bubbear, accepted an invitation from the We Are With You Association to mark International Women's Day in Versend, Southern Hungary. The Association is a long time grantee of the British Embassy.
During the trip DHM Bubbear met members of the Versend Roma community, visited the local kindergarten and school and observed a series of Hungarian, Croatian and Roma folk dance performances.
The DHM also visited Pécs, one of the 2009 Cultural Capitals of Europe and toured the unique and internationally recognised Zsolnay Cultural Quarter.
Published 11 March 2013