World news story
Deputy Governor spotlights Treasury role in good governance
From:

Part of:

Published:

28 May 2014
This was published under the 2010 to 2015 Conservative and Liberal Democrat coalition government
Each month the Deputy Governor highlights the vital good work of a Turks and Caicos Islands Government department: Treasury for May.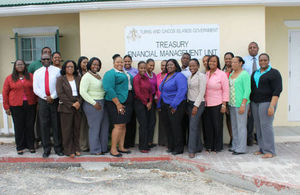 Treasury staff are at the heart of good governance and accountability in the Turks and Caicos Islands, preparing amongst other tasks: monthly reporting packs for loan financiers, quarterly and annual financial reports, all of which are now produced on time and published on www.gov.tc. They have also developed and implemented new manuals on vendors' payment procedures and payroll procedures, for example.
Today's Treasury has three core functions: Payments & Payroll; Revenue and Asset Management; Finance and Accounting. In addition, specialist Treasury finance managers were appointed to each Ministry where they work alongside and advice the Permanent Secretaries and their Heads of Departments.
The Hon Anya Williams said:
Although widely viewed simply as the department solely for the processing of payments, there is much, much more to the Turks and Caicos Islands Treasury.
With a staff complement of 30 spread across four islands, our Treasury colleagues have a duty and responsibility that goes deep into every department and function of Government. That they are responsible for the accounting of the taxpayers dollar, the compilation and management of the Government's accounts and the processing of payroll for over 1,700 members of staff and to thousands of vendors, is no small feat.
The Treasury in recent years has undergone a major restructuring exercise aimed at equipping the department with vital modern day technical skills for effective treasury management and accounting services. Professional training and development being a key component of the restructuring exercise, the Treasury has in the past two years benefitted from the placement of eight accounting and finance degree returning students and has worked towards the personal development of all other staff as well through local training and through international agencies.
Members of the Treasury staff regularly take part in international professional development training, including with the International Consortium on Government Financial Management (ICGFM) conferences on Good Public Financial Management Practices and Innovations. Several also took part in a two week Caribbean Regional Technical Assistance Centre (CARTAC) training conference on Cash flow Management and Forecasting and a training conference on Business Continuity Management.