World news story
Deputy Governor marks first anniversary in post
The Hon Anya Williams reflects on her first 12 months in post as Deputy Governor of the Turks and Caicos Islands.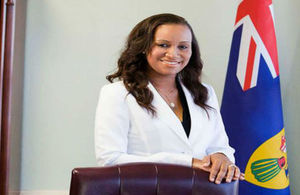 On the occasion of my first anniversary as Deputy Governor and head of the Public Service of the Turks and Caicos Islands, I would like to take this opportunity to say a special thank you to all of the hardworking civil servants throughout the Turks and Caicos Islands, for their often unrecognised service to the people and development of these islands, and for their support throughout the year.
Looking back over the past 12 months, I have had the opportunity to engage with so many remarkable and well deserving individuals who are committed to their roles and to the service that they deliver.
Much has been accomplished: the completion of the Pay and Grading Review, which resulted in the 10% Reinstatement of civil servants pay, with further much needed adjustments to salaries being forthcoming in the medium term; the reopening of the Government's Training Unit in January which has since provided much needed training to over 700 civil servants; the regularisation and confirmation of several locals in key senior positions within Government, including vacant and new positions; the placement of many returning students and the increasing of local staff complement in the civil service to over 90%.
During my tenure I have tried to keep the communication lines with staff open within Government, by not only holding quarterly meetings with the civil service in Grand Turk and Providenciales, but, also by visiting staff in their work environments including the family islands as well.
As many of the previous reform programs with regards to the implementation of the new Public Service Ordinance and other work-streams have now been completed, my future focus will be on: training and development in the civil service, including a new training program titled the new 21st Century TCIG Manager; to developing a proper E-Government Strategy to improve service provision; ensuring that the recommendations of the Pay and Grading Review of 2012 are fully implemented; to improve physical working conditions; to motivate and positively change the reputation and image of the civil service.
As many of these areas have financial implications, I intend to work closely with my Cabinet colleagues to ensure that they share these priorities as a joint vision for the civil service over the next three years.
I look forward to continuing to serve in this capacity and to bringing about much needed additional reforms in the civil service during my tenure as Deputy Governor.
Year in review:
Officially appointed as Deputy Governor on October 15th, 2012

Attended 1st Annual Deputy Governors Conference in London October 15th-16th, 2013

Held discussions with FCO Minister Mark Simmonds on October 16th, 2013 on the reinstatement of civil servants 10% pay

Presented a Business Case on the 10% Reinstatement to the FCO and DFID for approval October – 24th, 2012.

Obtained UK approval on 10% Reinstatement – November 2nd, 2012

Chaired Permanent Secretaries Meeting with FCO Minister Mark Simmonds in TCI – November 26th, 2012

Submitted to Cabinet the Civil Service Pay and Grading Review Report – January 2013

Held 1st General Civil Service Meetings in Grand Turk and Providenciales – January 2013

Reopened the official TCIG Training Unit – January 2013

Launched the Voluntary Severance Staff Reengagement Program – January 15th, 2013

Attended the Bournemouth University Disaster Management Training Course for Senior FCO officials in the UK – January 21st-25th, 2013

Successfully implemented the Civil Service 10% Reinstatement of Pay – February 25th, 2013

Launched the UK Civil Service Online Learning Program in the TCI – April 12th, 2013

Attended the Commonwealth Secretariat Heads of Public Service Consultative Meeting in St. Lucia – May 5th–7th, 2013

Held 2nd General Civil Service Meetings in Grand Turk and Providenciales – June 2013

Led a visit by Senior Government Officials to the islands of North, Middle and South Caicos – June 2013

Implemented a new Staff Performance Appraisal System – July 2nd, 2013

Implemented a new Public Service Handbook – September 25th, 2013

Participated in the Ministers and PS's Good Governance Workshop – September 25th-27th, 2013

Led a Public Sector Reform and Investment Policy Best Practice Workshop at the 2nd Annual Deputy Governors Conference in London – October 7th-8th, 2013

Chaired 18 sittings of the Permanent Secretaries Board – Oct. 2012 – Oct. 2013

Chaired 4 sittings of Cabinet – Oct. 2012 – Oct. 2013

Worked to fill over 100 vacant/new positions within Government – Oct. 2012 – Oct. 2013
Published 17 October 2013