Deputy Governor leads top team visit to family islands
Every public servant is being given the opportunity to meet the Deputy Governor and the top civil servant from each of the six Ministries.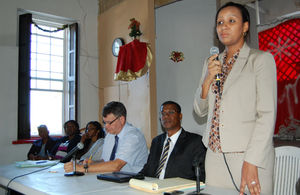 The Hon Anya Williams, both Deputy Governor and head of the Turks and Caicos Islands' (TCI) 1,700 civil servants, has personally committed to meeting government staff on every island in the TCI every quarter.
During the visits the top managerial team will provide public servants with updates about the ongoing reform programme, the new civil service performance management arrangements and also assess the state of and working conditions in Government facilities across the country.
There will also be session where public servants on each island can raise their issues and suggestions with their most senior managers too.
The full programme of activity is as follows:
Tue 18 June Permanent Secretaries Board Meeting, Attorney General's Chambers Conference Room

Wed 19 June Visit to North Caicos

Thu 20 June Visit to Middle Caicos

Thu 27 June Visit to South Caicos

Fri 28 June Visit to Salt Cay

Mon 8 July Public Service Meeting, 3:30pm – 5:30pm at the Dillon Hall, Grand Turk

Tue 9 July Public Service meeting, 3:30pm – 5:30pm at the Gustavus Lightbourne Sports Complex, Providenciales
One of my most profound experiences as PS Finance was having the opportunity to visit the family islands and also attend town hall meetings along with Governor Todd. This no doubt gives you a better understanding of the needs and concerns of the people, which certainly differ from island to island.
It was for this reason that I as head of the public service committed that I would establish the same practice within the civil service. Having held the first civil service meetings in Providenciales and Grand Turk in January, I committed at the time that the family islands would be included in my next round of visits," said the Hon Anya Williams.
It is one thing to hear about an issue sitting in an office in Grand Turk or Providenciales, and quite another to see it for yourself in person. These sessions will play a crucial part in including our people in the ongoing reform process, and allow us to provide them with vital feedback on its progress.
Published 17 June 2013