World news story
Deputy British Consul General visits Susiya
The Deputy British Consul General visited Susiya to show UK support to this community, whose homes are at risk of demolition.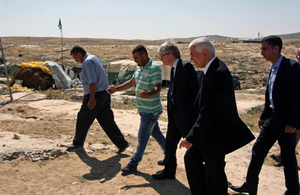 Deputy British Consul General, James Downer, and a team from the British Consulate General in Jerusalem visited the community of Susiya today. They visited to show UK support to this community whose homes are at risk of demolition.
Mr. Downer met Susiya residents and discussed the recent Israeli High Court rejection of their request for an interim order preventing the demolition of the village. This decision comes before the scheduled August 3rd hearing on their High Court petition against the rejection of their proposed master building plan. He heard their concerns about the impact the demolition would have on their livelihoods and lifestyle.
Commenting on the visit, Mr Downer said:
I am deeply concerned that the community of Susiya is at risk of imminent demolition following the 4 May Israeli High Court decision. Demolitions and the evictions of Palestinians from their homes cause unnecessary suffering to ordinary Palestinians and are harmful to the peace process. They are, in all but the most limited circumstances, contrary to International Humanitarian Law.

We have repeatedly made clear to the Israeli authorities our serious concern at the increase in demolitions of Palestinian properties in Area C of the West Bank, including in the case of Susiya.
The UK has long supported the community in Susiya, including providing support for the village masterplan and for local schools. At present, the Consulate is supporting the organisation "Rabbis for Human Rights", who are providing the Susiya community with legal assistance.
Published 13 May 2015