News story
Demolition paves way for magazines to go
A major skyline change is under way at the Low Level Waste (LLW) Repository in Cumbria.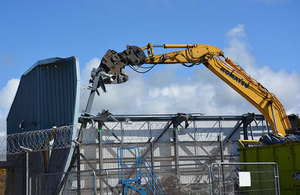 Magazine 4's Retrieval Facility (MRF), a fixture at the site since the 1990s, has been safely demolished, setting the template for the future demolition of such facilities on site.
MRFs are purpose-built engineered facilities, constructed to allow the retrieval of Plutonium Contaminated Materials (PCM) from magazines before decommissioning and demolition could begin.
Carl Smith, PCM Senior Project Manager, said:
This is the first of five remaining Magazine Retrieval Facilities to be demolished and we have proven the demolition method for the MRF. This will be reviewed as part of the post-project review to identify any improvements and efficiencies for the future demolition phases.
All remaining magazines on the site near Drigg will be demolished, in time, to make way for future vaults.
The soft strip, de-planting and removal of the cladding and portal frame is now complete for Magazine 4.
The first phase of demolition has now been completed, with soil removed from the top of the magazine structure, erection of an environmental barrier at the magazine entrance and the removal off site of all remaining waste.
All the demolition work has been recorded by four time-lapse cameras located around the demolition site.
The magazines, or concrete bunkers, were constructed to store munitions such as TNT during World War II, when the site hosted a Royal Ordnance Factory.
PCM from Sellafield operations was later stored in some magazines and in the 1990s, retrieval facilities were built to enable the removal, packaging and transport of the waste for safe storage in modern, purpose-built facilities at Sellafield.
In 2008, LLWR started a programme of work to decommission the magazines.
Contractor: KDC, under the decommissioning and demolition framework with NSG.
Published 17 July 2015