World news story
DEMA secures Governor's Office grants for training
The Department for the Environment and Maritime Affairs (DEMA) has received $10,000 to build the technical capacity of its officers.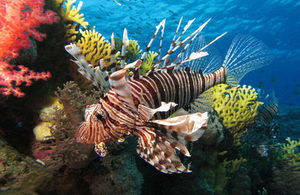 The Governor's Office funding will see a DEMA officer attend a week-long Port State Control training conference in Southampton, UK. The conference is offered annually by The International Chamber of Commerce Crime Services and presents the latest developments to the major conventions, regulations and codes related to shipping and maritime affairs. Such training is essential to officers working within maritime law enforcement.
The second project will see the Governor's Office pay for the equipment and certification necessary for ten DEMA officers to receive a full-day's open-water training on lionfish control. Lionfish (Pterois spp.) are native to the Pacific Ocean but have recently been introduced into the Caribbean region, and have had a severe impact on the marine environment. The training, which is also being subsidised by the course providers Aqua Scene TCI and the Turks and Caicos Reef Fund (TCRF), is an important step towards the development of a strategy to control lionfish numbers in TCI waters.
These two projects will provide DEMA with additional technical capacity as it seeks to continue to safeguard TCI's natural resources," commented Director of DEMA, Kathleen Wood.

It has become increasingly clear that lionfish are causing real environmental problems in the region given their high rate of reproduction and aggressive consumption of marine resources. We are pleased to be able to equip our officers with the expertise necessary to address this issue. In addition, the Port State Control course will help keep us abreast of the latest advances and developments in maritime law enforcement. We are grateful to the Governor's Office for funding the work, and for Aqua Scene TCI and TCRF for providing their time and expertise.
Commenting on the grant of the funding, Governor Peter Beckingham said:
I am delighted that we have been able to assist DEMA by funding these two important projects as they continue their valuable work protecting and enhancing TCI's natural environment.
Published 29 January 2014