Defra publishes Business Plan
Defra has today published its Business Plan which sets out the department's priorities and commitments for the next 5 years.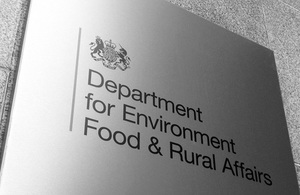 The Business Plan will help to ensure that Defra remains transparent and accountable to the public by clearly setting out actions and timescales for delivering against the priorities, along with clear indicators of success. Each month Defra will publish a simple progress report on its website.
The report also lays out Defra's plans to publish a wide range of data to help the public view the department's performance and productivity.
A consultation on the data which the department plans to make available has been launched today, asking the public for their views on what information should be published. The consultation will run until 31 January 2011.
The Business Plan can be viewed at:
www.defra.gov.uk/corporate/about/what/business-planning/
The consultation on Defra's Information Strategy can be viewed at: archive.defra.gov.uk/corporate/consult/info-strategy/index.htm
Published 8 November 2010