Press release
Defra pledges over £1million extra funding for local authorities to tackle air pollution
Local councils in England are set to benefit from over £1 million of additional Defra funding to tackle air pollution.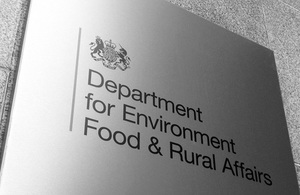 The extra support was announced today in a speech given by the Environment Minister, Lord Taylor of Holbeach, at the Environment Protection Conference in London.
In October, Lord Taylor announced that 51 councils across England would receive £2 million for a range of projects designed to reduce the levels of air pollution in our towns and cities. 
Defra will be talking directly to local councils to identify which projects could benefit from today's extra funding to help reduce Nitrogen Dioxide (NO2) emissions.
Environment Minister Lord Taylor of Holbeach said:
"Although the quality of the air that we breathe has improved considerably, reducing air pollution is still one of our greatest challenges.
"That is why I am pleased to announce today that we are providing just over £1 million of further funding to support these projects and to improve the local framework for delivering air quality improvements. 
"Local authorities continue to play their part in improving air quality and this extra Government support builds on the £2 million of Air Quality Grants for research and interventions to support air quality improvements that I announced in October."
Eligibility for these new grants is limited to English local authorities with one or more Air Quality Management Areas for NO2 or those authorities where the Government's national air quality assessment in 2009 identified a high level of NO2 emissions in their area.
It is hoped that these projects will lead to significant reductions in NO2 emissions over the next twelve months in those areas where an urgent improvement is required.
Local authorities who are successful in gaining this funding will be required to provide Defra with a progress report by September 2012 to monitor the success of each project and prove the money is being spent effectively.
In his speech Lord Taylor also announced the launch of a revised and improved Air Quality Index (AQI) from January 2012.  The Air Quality Index is used to communicate the current and forecast levels of outdoor air pollution and provides details about what the public can do to reduce exposure.
Lord Taylor added:
"We have reviewed the way in which we inform the public about air pollution, which includes updating our Air Quality Index to bring it in line with current health evidence and to make it easier for people, particularly those susceptible to the effects of air pollution, to understand the impacts of air pollution on their health. 
"I can therefore announce that we will be launching a new and significantly improved version of the Index in January 2012."
Notes
Defra has pledged an amount of £1.186 million of further funding to local authorities to tackle air pollution.
The Air Quality Grant Programme helps support the delivery of local air quality action plans required under Section 84 of the Environment Act. 
The original fund of £2m was very heavily oversubscribed and therefore some projects had to be cut back and other projects could not be funded.  The additional funding will allow other projects to be funded where they offer good value for money and also to provide additional funding to support projects that were not fully funded in the first round allocations.  
Further information on the Air Quality Grant programme is available at http://www.defra.gov.uk/environment/quality/air/air-quality/laqm/grants/.
Similar to sun and pollen indexes the Air Quality Index uses a 1-10 index divided into four bands ('Low', 'Moderate', 'High' and 'Very High').  The Index provides details about air pollution levels and appropriate actions for the public and susceptible groups.
Further information about the Air Quality Index can be found at the following links:
Published 1 December 2011