News story
Defra group email addresses are changing
Over the coming weeks and months, some emails from the Defra group will drop the 'gsi' in email addresses.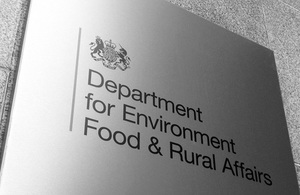 Our email addresses are changing and the transition will be completed by the end of March 2019. This applies to Core Defra, RPA (Rural Payments Agency), APHA (Animal & Plant Health Agency), CCC (Committee for climate Control), and some MMO (Marine Management Organisation) addresses.
Why is our email changing?
We are following security guidance provided by the Government Digital Service (GDS), and moving away from the 'Government Secure Intranet' (GSI) to cloud computing with Office 365. As a result all government departments have, or will be, removing 'GSI' from their email addresses.
How is it changing?
Most Defra group email addresses will just be shorter without the GSI. Please see below how specific email addresses will be changing.
| Old address | New address |
| --- | --- |
| @defra.gsi.gov.uk | @defra.gov.uk |
| @apha.gsi.gov.uk | @apha.gov.uk |
| @marinemanagement.gsi.gov.uk | @marinemanagement.org.uk |
| @rpa.gsi.gov.uk | @rpa.gov.uk |
| @ukcb.gsi.gov.uk | @ukcoordinatingbody.gov.uk |
| @theccc.gsi.gov.uk | @theccc.org.uk |
For more information about changes to RPA related email addresses click here.
What do I need to do?
Make sure you update your records and any web applications or forms that use our email addresses. Some email addresses have already changed so you can update your contact lists now, however emails to our old addresses will be automatically delivered to our new address.
Please note: We will still continue to receive GSI emails if you forget to update your records.
Will our email still be secure?
Yes. Government Digital Services outlined their standard for configuring e-mail, which Defra group has implemented on Office 365.
Published 10 January 2019