Press release
Defra announces new members of the Darwin Expert Committee
Eight members appointed and five members reappointed to the Darwin Expert Committee (DEC).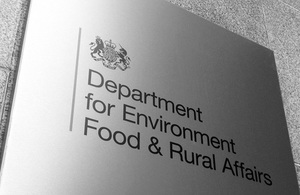 Eight members have been appointed and five members have been reappointed to the Darwin Expert Committee (DEC) by Environment Secretary Caroline Spelman. 
The appointments will run until August 2015 and have been made through fair and open competition, in line with the guidance issued by the Commissioner for Public Appointments.
The DEC, currently chaired by Professor David Macdonald from the University of Oxford, advises the Secretary of State for Environment on the principles and objectives of the Darwin Initiative grants and makes recommendations on applications for funding.
The eight members that have been appointed are:
Mr Martin Brasher: Martin recently retired from his post as a Deputy Director within Defra's Biodiversity Programme, he has over 30 years experience as a Government policy advisor on environmental issues including the major environmental MEAs like CBD, CITES and CMS as well as being directly involved in the Darwin Initiative itself over the last six years.
Dr Mark Collins: Mark is an independent environmental expert with 40 years experience in national and international conservation, protection and management with a career in international environmental organisations, including UNEP and IUCN. A biologist with a PhD in tropical ecology, Mark is an established spokesman and writer on the environment, and was awarded the Royal Geographical Society Busk Medal in 2000 for his contributions to conservation.
Professor Iain Gordon: Iain is the Chief Executive and Director of the James Hutton Institute. He is a research leader in environmental and agricultural research including the management of wildlife to meet the objectives of rural development and environmental restoration and human community involvement in wildlife management. He spent seven years in Australia, leading research programmes on land management to protect the Great Barrier Reef.
Mr Matthew Hatchwell: Matthew is the Chief Executive at the Wildlife Conservation Society - Europe. He has over 25 years experience on conservation programmes worldwide including directing the WCS country programme in Madagascar and the WCS office in Brazzaville, Republic of Congo. He developed a special focus on addressing climate change issues, the impacts of extractive industry and the balance between conservation and human livelihoods in Central Africa.
Dr Martin Kaonga: Martin has been the Director of Science and Conservation at A Rocha International since November 2010.  He has a PhD in environmental science from Cambridge University, and has worked extensively over the last 29 years on climate change adaptation and biodiversity conservation. Martin previously held senior teaching, consulting and management positions in several organisations including the University of Zambia and the Natural Resources Development College, Lusaka.
 
Dr Gary Martin: Gary is the Director of the Global Diversity Foundation (responsible for establishing long-term 'observatories' of cultural and natural diversity at selected field sites in Asia, Africa and Latin America). Gary has been involved in conservation and ethno-botanical work for over twenty-five years. In 1999, he was appointed Research Fellow and Lecturer in the Anthropology Department at the University of Kent, where he teaches and supervises students in the Ethnobotany MSc and Ethnobiology MPhil/PhD programs.
Professor EJ Milner-Gulland: EJ is a Professor in Conservation Science at Imperial College, London. She has over 20 years experience with her research focusing on the interface between ecology and human behaviour with particular interests the sustainability of wildlife hunting in Central Asia (saiga antelope) and tropical forest ecosystems.
Dr Shaun Russell: Shaun is the Director of the Wales Environment Research Hub based at Bangor University. He has 31 years as a biodiversity conservation scientist, and has conducted many training and advisory missions around the world, in the fields of biodiversity conservation and protected area management, including tourism development.
The five members that have been re-appointed are:
Ms Joanna Elliott: Joanna is Vice President for Program Design at the African Wildlife Foundation and has been a member of the DEC since September 2009. She has over 30 years experience in economics, conservation and strategic consulting. She has advised governments, multi and bilateral agencies, NGOs and commercial enterprises on conservation issues such as protected area management, environmental economics, environmental impact assessments, institutional development and support of environmental NGOs.
Mr Alistair Gammell: Alistair has been a member of the DEC since September 2009 and is currently the director of the Global Ocean Legacy campaign, responsible for the overall planning and execution of this work in UK Territories, working with other non-governmental organizations and scientists to gain maximum support for marine reserves. Previously Alistair was the international director of the Royal Society for the Protection of Birds (RSPB) planning major conservation projects in Europe, Africa, Asia and the UK Overseas Territories.
Professor Mary Gibby: Mary is the Director of Science at The Royal Botanic Gardens in Edinburgh and is a leading British botanist. She has been a member of the DEC since September 2009. Mary is widely respected in her field, and she has a wealth of experience and expertise in plant biology, genetic diversity and species conservation.
Professor Brendan Godley: Brendan is a Professor of Conservation Science at the University of Exeter and has been a member of the DEC since September 2009. He is a conservation marine biologist with past research focusing on the study of marine vertebrates (in particular turtles), but also invasive species and the impacts of renewable energy facilities.
Professor Monique Simmonds: Monique has been a member of the DEC since September 2009 and is currently Head of the Sustainable Uses of Plants group at the Royal Botanic Gardens, Kew. He also heads up Kew's Innovation Unit. Research has focused on the economic uses of plants and fungi. She has developed chemical authentication methods for use by companies, NGOs, government bodies and by field workers to check the quality of plant-derived products being sold as medicines, cosmetics and foods.
Members do not receive any direct remuneration for their services, although reasonable travel and subsistence expenses can be reimbursed.
Published 22 August 2012