Press release
Defra announces five members of the Natural Capital Committee
Five members have been appointed to the independent Natural Capital Committee by Environment Secretary Caroline Spelman.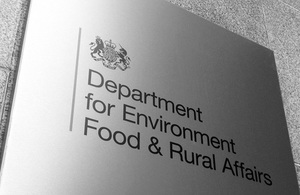 The Committee will help Government to ensure the value of England's natural capital and its potential to support growth is fully taken into account in decision-making. 
The Natural Capital Committee, a key Natural Environment White Paper Commitment, will provide advice on the state of English Natural Capital to the Economic Affairs Cabinet Committee, chaired by the Chancellor of the Exchequer. 
Two further members with specialist expertise in the areas of business and natural sciences will shortly be appointed to complete the membership.
The five members that have been appointed are:
Ian Bateman: Ian is Director of the Centre for Social and Economic Research on the Global Environment (CSERGE) at the University of East Anglia. He served as Head of Economics for the UK National Ecosystem Assessment and is a Member of the Defra Science Advisory Council.
Giles Atkinson: Giles is a Reader in Environmental Policy, and Head of Environmental Economics and Policy Cluster at the Geography and Environment Department of the London School of Economics & Political Science. He is also an associate of the Grantham Research Institute on Climate Change and the Environment. Giles was a contributing author on the NEA, and has also served as a consultant to the World Bank.
Kerry ten Kate: Kerry is the Director of the Business and Biodiversity Offsets Programme (BBOP) at Forest Trends, and has worked for Kew and the United Nations. Kerry is also currently working on the Defra sponsored Valuing Nature Network, which is supporting the work of the Ecosystem Markets Task Force.
Robin Smale: Robin is the Director and Founder of Vivid Economics Ltd. He has lead a diverse range of projects across the public and private sectors, including analysing the potential role for a Green Investment Bank in the UK.
Rosemary Hails. Rosie has a MBE for services to Environmental Research, has served as lead author on diseases and pests section of the National Ecosystem Assessment, and is chair of the Natural Capital Initiative. Rosie is a section head at the NERC Centre for Ecology & Hydrology, and a senior research associate of Oxford University.
The Natural Capital Committee is a time limited ad-hoc advisory body, rather than an NDPB, with a built in review in 2014. It will be supported by a natural capital asset check scoping study, and the 2nd phase of the highly influential National Ecosystem Assessment.
Published 11 May 2012